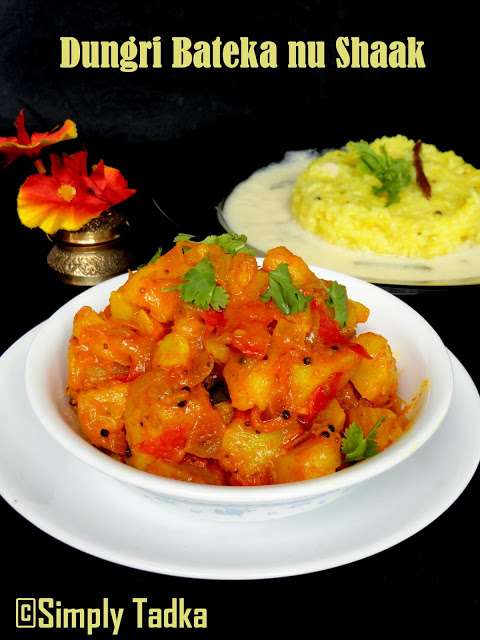 Last Updated on
Dungri Bateka nu shaak is a spicy and
simple side dish served with bhakris or jowar ki roti. Dungri is onion and
bateka or batata is potatoes in Guajarati. I got this recipe from vaishali's
blog "Ribbons to Pastas. For this recipe, you have to cook potatoes in tomatoes
and onion gravy.
Preparation
Time: 10 Minutes
Cooking
Time: 10 Minutes
Servings:
2
Category:
Main Course
Cuisines:
Gujarati Cuisine
Ingredients:
4 Potatoes, Boiled and Diced
2 Onions, Chopped
1 Tomato, chopped
1 Tsp. Ginger, grated
2 Green Chilies, finely chopped
1/2 Tsp. Mustard Seeds
Pinch of Asafoetida
6-7 Curry Leaves
Salt to Taste
Red Chili to Taste
1/2 Tsp. Turmeric Powder
Few Coriander Leaves, Chopped
1 Tbsp. Vegetable Oil
Instructions:
Heat the oil in pan and add mustard
seeds, asafoetida and curry leaves, when they start splutter.
Add green chilies and ginger and sauté 1
minute.
Add chopped onions and sauté till
translucent. Add tomato and spices, mix it.
Add boiled potatoes and cook for 5-7
minutes on medium flame.
Garnish with green coriander leaves.
Tags: how to dungri bateka nu shaak, potato onion curry, curry
recipe, gujarati recipe, main course recipe, side dish, potato recipe, onion
recipe, tomato recipe, spicy recipe, simply tadka, easy and simple recipe, tiffin
recipe, lunchbox recipe.
Enter your email address:
Delivered by FeedBurner