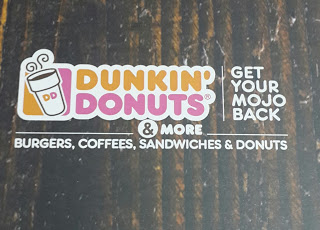 Last Updated on
Dunkin' Donuts,
India's first All-Day Part and Adult Quick Service Restaurant (Adult QSR) chain
recently launched its latest products offering. Dunkin' Donuts has launched 4
new coffees – Bangalore Startup Coffee, Boston Black Coffee, Therapeutic
Cappuccino, Tough Guy Cappuccino.
Dunkin
Donuts is world 2nd largest coffee chain which shared huge varieties
of coffees and donuts. As I am big fan of creamy and frothy coffees, so when Dunkin'
Donuts announced their four new range of coffee… feeling excited. Personally I love
Therapeutic Cappuccino
compare to others.
The products have been created by Chef Felix
Daniel and his team. The range of
coffees includes options such as:
Bangalore
Startup Coffee
Inspired by the
startup culture of the city, it gives one the confidence and energy to achieve
anything. The light flavors, reminiscent of the South Indian Filter Coffee, are
a result of the 100% Arabica roast coffee beans decoction mixed with piping hot
milk.
Boston Black
Coffee
The
straight-forward, light and easy-going coffee is a palatable version of the
classic black coffee – sans the bitterness – for the Indian audiences.
Therapeutic
Cappuccino
Designed to
soothe the senses, this is a 100% Arabica Italian-style coffee and rich hot
chocolate, generously dressed with whipped cream and drizzled with cinnamon
powder.
Tough Guy
Cappuccino
This tough
coffee is a hard-working triple shot of dark-roast 100% Arabica espresso in
rich textured milk, with a hint of brandy flavour. Perfect for those long hours
to be put in for achieving the impossible!
Launching the new range of Coffee, Mr. Dev
Amritesh, President and COO, Dunkin' Donuts India, said, "Today's youth is
running at an undeterred pace with a desire to conquer the world. Dunkin'
Donuts acknowledges this "spirit to conquer" through the new range of coffees.
It is the ultimate fuel to keep you going so that with "enough coffee you could
shake the world".
Dunkin's new
range of coffees occupies an emergent space of coffee consumption between the
two called Real-Social. Inspired from real-social contexts in youth's life –
workspace and relationships, the coffees are designed as the ultimate self help
for the 24×7 youth culture.
Tags: Coffee, dunkin' donuts, delhi, restaurants, cafe, coffee shop, black coffee, lemon coffee, review, espresso, simplytadka, cannought place donuts, burgers.
Enter your email address:
Delivered by FeedBurner