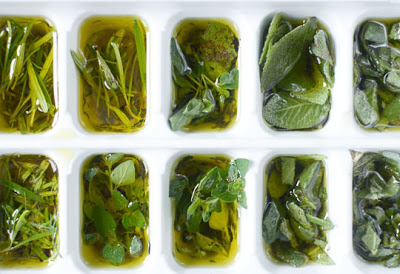 Last Updated on
Now
one more time, I'm very happy to present my third edition of guest post for my
blog "Preeti's Kitchen Life". This wonderful opportunity gets By
Guest Blogger Gracie.
Thank you so much for choosing my blog for this
wonderful article on the topic of "Easy Ways to
Preserve Fresh Herbs with Olive Oil". So without taking your more time I want to
present my guest article…
Now Gracie says…..
Title: Easy Ways to Preserve Fresh Herbs with Olive
Oil
Amazing idea! Why not
the herbs and fresh leaves be preserved?
Yes, they can be
conserved for the winter. As in summer many new leaves and fresh thymes are
gathered, they can be well kept for the winter's soup without missing your favorite
ingredients. Garden-fresh herbs are not available everywhere, the neatness and
freshness cannot be obtained. So the best way to freeze the herbs is in oil.
Rather than using different oils store those in olive grease which can
safeguard the herbs from browning and other freezer burns.
As the dishes contain
oils to cook the onions and potatoes, conserve the herbs in oil which may be
used directly and they can act as a base for your dish. The preservation works
with the best of basil leaves, herbs, broccoli and oregano. The soft herbs such
as the thymes, mint and lemon verbena are usually added raw to the whole dish.
So freeze the herbs which can be used for basil pesto. The main reason of icing
them in oil is the aromas of the leaves are well infused so, this acts like a
bonus for the recipe.
Never make the herbs
delicate by freezing them. Follow few methods which can be well-kept.
Select the leaves which are cultivated in the summer but not in winter,
can be used for winter dishes. So choose firm and fresh leaves, herbs from your
garden.
Collect them all separately and chop them fine if needed. At times the
larger sprigs and leaves are also well preserved. So the frozen thymes are very
much useful.
Herbs such as stalk, oregano, rosemary, sage, broccoli, and fennel can be
gathered, finely chopped and can be placed in an ice cube tray. The wells are
almost filled with thymes and later pour some olive oil or the unsalted butter
over the herbs.
The tray can be covered with a plastic wrap which can safeguard and freeze
it overnight. These can be preserved in different moulds or jars also.
Later the frozen cubes are removed from the ice trays and stored in a
container. These can be placed in small bags also and can be used for winter
roast chickens.
Make sure you label the bags with their names containing the herbs. People
use different oils also, so with the oils can serve you better.
This can allow the aroma of the leaves packed inside and spread in the
recipe. In this way the leaves don't lose their potency.
This is a brilliant
idea which is loved by many. This is a perfect, healthy and safe way to
conserve the stems. It acts as a tip for every kitchen lover and cook lover. Cash
loan UK can be taken as a help for buying the ingredients ideally from the
market. Instead opt for this outstanding idea which can save your money.
Author Bio:
This is Gracie a Guest blogger from UK. I have written many guest posts on
different categories like Home-improvement, Beauty, Health, Technology,
Business and finance. At present I am doing research on
same day loans
. You can find more about me @finance port