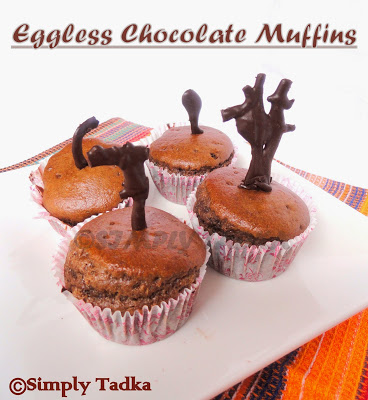 Last Updated on
First time I tried muffins in my kitchen
which comes out so well and fluffy. For this recipe, you have to prepare the
batter just like cake batter, I used maida, cocoa powder, sugar, oil, condense
milk and more for eggless and butterless muffins. For flavoring, add some raisins which give
nice texture to this eggless chocolate muffin.
Preparation
Time: 15 Minutes
Cooking
Time: 0 Minutes
Baking Time:
30 Minutes
Servings: 4
Category:
Cake & Muffins
Ingredients:
1 Cup Maida/ All Purpose Flour
1/2 Cup Cocoa Powder
1/2 Tsp. Baking Soda
2 Tsp. Baking Powder
1 Cup Sugar
1 Cup Milk
1 Cup Oil
3 Tbsp. Condense Milk
Few drops of Vanilla Essence
Few Raisins for garnishing
Instructions:
Sieve the maida, cocoa powder, baking soda,
baking powder together and keep aside.
In separate bowl, add oil and sugar powder together
and whisk it till to light and fluffy.
Add milk, vanilla essence and condense milk
and beat it again. Then add dry ingredient and mix well to creamy batter. Now batter
is ready to bake.
Preheat the oven to 180C for 10 minutes.
Meanwhile, arrange the muffin cups in muffin tray. Pour the batter into each
cup till to 3/4th of cup. Add few raisins on the top.
Now bake the muffins at 180C for 15-20
minutes or until to fork inserted at the center if comes out clean. Cool down the
muffins for 10 minutes. Serve with frosting or simple chocolate garnishing and
enjoy.
Notes: You can add raisins or tutti fruiti in
batter for flavor. The muffins rise well so make sure to pour only till 3/4 of
the cup. Add little milk more if needed to adjust the batter consistency.
Tags: how to bake eggless muffins, easy muffin
recipes, chocolate muffins, eggless muffin recipes, simple muffins, baking
recipes, baking stuffs, how to prepare eggless chocolate muffins at home,
homemade muffins, desserts, sweets, chocolate recipes, eggless recipes, valentine recipes, christmas recipes, festiival recipes.
Enter your email address:
Delivered by FeedBurner