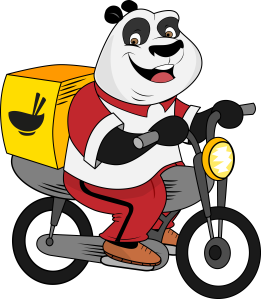 Last Updated on
These days
life is so hectic and no one has enough time to cook or go out for lunch
or dinner in this Highly competitive world. To solve this problem, today I want to
share a quite interesting food portal with all of my readers…
www.foodpanda.in
. It's a well renowned
brand these days in online food ordering portal.
Food Panda
came up with this idea to deliver the delicious and yummy food from the
restaurants of your choice, at your doorstep. They serve best quality of food
at reasonable price in less than expected time, at your place.
Food panda
is
user-friendly and hassle free portal which easily operates on mobile,tablets or desktops. Food Panda aggregates a number of food joints and restaurant at one place depending on your locality, within few minutes and remove the hassle of finding
best food from one site to another. Whenever you feel like to eating something
different instead of routine food or want a special treat with family at home, I would strongly suggest and recommend this site.
Food Panda has got complete information to order food like restaurant name, menu,
price, snap and delivery time/charges. You can order for food via phone call or by logging into this site. You can even get the information about special offers and combos on weekly basis on homepage.
If you want
to surprise your loved ones or you have unwanted guests at home, within few
minutes get fresh and yummy food at home and become a good host. There are many outlets under food panda all over India across 12 popular metro cities like
Ahmedabad, Mumbai, Delhi, Bangalore, Greater Noida, Chandigarh, Pune,
Indirapuram/ Ghaziabad, Kolkata, Hyderabad, Panchkula and Gurgaon as well as
other countries too.
How to proceeds?
Step 2
Enter your city and locations
Step 3
Choose your favourite restaurant and menu.
Step 4 Pay
via card or COD.
How to contact Food Panda
You can call
on 011-30715375 (11AM to 11PM) or Login on www.foodpanda.in.
Enjoy your favourite and delicious cuisine at home with family or friends!!!
Food Panda says "We believe that ordering food should be simple,
fast and enjoyable. Forget about the pain of cooking and washing up! Try a
variety of your favorite dishes at home. With a few simple clicks, Food Panda
can help you order food online. Warm and delicious food delivered straight to
your doorstep."


Enter your email address:
Delivered by FeedBurner