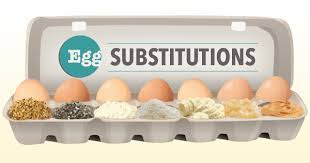 Last Updated on
Many of people choose to eliminate eggs from
their food; they prefer more vegetarian or vegan recipes, concerns with
allergies, religious purposes, health problems or environmental reasons. Here I shared some substitutions below
through which we can replace the egg in baking recipes to bake eggless baking
goodies.
Ground Flax
1 Tbsp. Ground flax + 3 Tbsps. water = 1 Egg
(Mix and blend until to creamy and thick
mixture)
Best for chocolate recipe, oatmeal cookies,
granola bars
Chia Seeds
1 Tbsp. Chia Seeds + 1/3 Cup water = 1 Egg
(Mix and let sit for 15 minutes)
Soy Protein
1 Tbsp. Soy Protein Powder + 3 Tbsps. water =
1 Egg (Mix well)
Agar Agar
1 Tbsp. Agar agar + 1 Tbsp. Water = 1 Egg
Ripe Bananas

1/2 Mashed Banana = 1 egg (Cream with Sugar)
Fat free cookies, muffins, breads and
pancakes
Apple Sauce
1/4 Cup Unsweetened Applesauce = 1 Egg (Add with
wet Ingredients)
Best for Muffins, breads, cakes and cupcakes
Peanut
Butter
3Tbsps Organic Peanut Butter =1 Egg
Corn Starch
2 Tbsps. Corn Starch + 3 Tbsps. Water, Combined = 1 Egg
Silken Tofu
1/4 Cup Silken Tofu (Blend with Liquid)
Vegan Yogurt
1/4 Cup Vegan Yogurt (Blend with Liquid or
wet ingredients)
Best for brownies.
Baking
Powder
2 Tbsps. Water + 2 Tsps. Baking Powder+ 1
Tbsp. Oil = 1 Egg (Gluten free baking)
Check out the Blogging Marathon page for the other Blogging Marathoners doing BM# 56
Enter your email address:
Delivered by FeedBurner