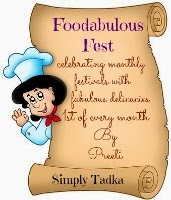 Last Updated on
After a long time, again I get chance to announce my event "Foodabulous
Fest" on my space "Simply Tadka". Foodabulous Fest means to celebrate
Indian festivals with fabulous food. November month is full of festivals especially
festival of lights i.e. Diwali. In Hindu tradition, Diwali is a five day festival
which starts on dhanteras. Diwali involves the lighting of small clay
lamps filled with oil to signify the triumph of good over evil. During Diwali, all the celebrants wear new clothes and share sweets and snacks with family and friends.
As a part of festive time, there will be a chance to win giveaway sponsored
by "Just Eat" online food portal. This giveaway is only for Simply Tadka's fan who fulfill all mandatory rules will be eligible for giveaway.
You have to just prepare any kind food; sweet or savory items but only
vegetarian food which appropriate for festival time.
Here is the list of November month's festival:
Dhanteras

Nov 1

Gopa
Ashtami

Nov 10

Deepawali

Nov 3

Tulsi
Vivah

Nov 13

Goverdhan
Pooja

Nov 4

Children
Day

Nov 14

Bhai Doj

Nov 5

Kartik
Purnima

Nov 17

Chhath
Puja

Nov 8

Guru Nanak
Jayanti

Nov 17
Now time to introduce about giveaway, there
are three online food vouchers sponsored by "Just Eat" online food portal. At the
end of event, three lucky winners who eligible for giveaway will be get food
voucher.
Rules for
event:
The event runs through the month of November. No archives please, only fresh entries can add during the month of November.
Only vegetarian recipes are allowed, eggs are allowed only in case of baking.
Use
linky tools to enter your recipes at the end of post or mail me.
Usage
of logo is optional but it's recommended that you use it as it helps spread the
word. The post must to be linked with Foodabulous Fest Event
organised by Simply TADKA, it's compulsory.
In
case you have a problem using linky tool you can send the details to simplytadka@gmail.com in
the following format using subject line of Foodabulous Fest- Celebrate "November
Month". You're
Name, Email- id, Blog Name, Blog URL, Recipe Name, Recipe URL, Picture
(300px). I will post the round up within ten days after the event gets
over.
Mandatory Rules for giveaway:
Like
and Share Simply Tadka's Facebook page and drop a comment with link.
Like Just Eat Facebook Page and drop a comment with link.
Share
atleast one recipe under this event and drop a comment with recipe name.
Write
a blog post about "Just Eat Online food portal" and "Simply Tadka" food blog,
both on your blog and drop a comment with URL.
Some optional points:
The giveaway is only
for who have Indian shipping detail. The giveaway is open for
Followers of Simply Tadka. If you wanna host Foodabulous Fest event on own space,
check this link.
Looking forward for the lots of
delicious and traditional cuisines for Month of Nov's celebrations,
Join me in my Blog. Get ready for the Festive Treat.
Enter your email address:
Delivered by FeedBurner