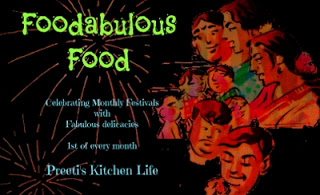 Last Updated on
Here is the roundup and winner announcement of 3rd Series of "Foodabulous Fest- March Masti" in 2013. Under this series, total 23 bloggers were
participated and Simply Tadka received total 57 recipes, all are very delicious
and tempting. Thanks to all bloggers for making event so colorful and
delicious with your amazing recipes.
Now come to
Surprise giveaway, as everyone knows the selection criterion is on the basis of
randomly chosen number out of 57 and who fulfill all mandatory entries will be winner.
Prepared by
Shailaja Reddy
Congratulations Ms.
Shailaja Reddy for a Cook Book by Chef Tarla Dalal "Cooking Under 10 minutes", please mail me your
Indian shipping address on my id
simplytadka@gmail.com
within two days, otherwise I have
to choose another winner.
Thanks to all
lovely co-bloggers who devoted precious time and recipes in my event.
If you want to
host this event please check host line up….
Check here
.
Hi Friends, everyone know as Preeti's Kitchen Life becomes Simply Tadka so I was also change the logo for foodabulous fest series which will be used by May series i.e here is my new logo, hope all of you like it.
Enter your email address:
Delivered by FeedBurner