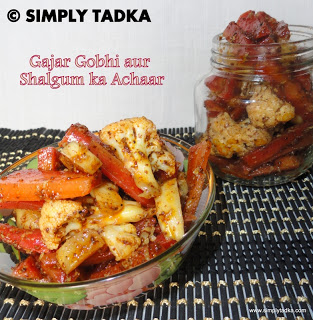 Last Updated on
This time I prepared pickle for my blog, as the winter season you
can easily get seasonal carrots, turnips and cauliflower for making pickle and
this season is also appropriate for making any pickle which easily resist for
long period with mustard oil and spices.
This recipe is taken from "Cooking with Love" cook book written by
Chef Sanjeev Kapoor which given by Vaishali sabnani to me on her blog-iversry.
I prepared this recipe for on-going Blogging Marathon# 25 for 1st
week under the theme of cooking from cookbook.
Preparation time: 30
minutes
Cooking time: 10 Minutes
Servings: 1 Bottle
Ingredients
3-4 Carrots/ gajar (peeled and cut into 2 inch long sized)
2 Turnips/ shalgum (peeled and cut into 2 inch long sized)
1 small sized cauliflower/ gobhi (florets)
7-8 Tbsp. Mustard oil
2 Tbsp. Powered Mustard seeds
2 Tbsp. Ginger, grated
1 Tbsp. Red chili powder
1 Tbsp. Garam masala
Salt to taste (1-2 Tbsp)
2 Tbsp. Jaggery, grated (Gur)
2 Tbsp. Vinegar
Pictorial
Direction
Heat the oil in a kadai. Add
grated ginger and sauté till light golden brown.
Add the powdered mustard
seeds, chilli powder and garam masala powder, and sauté for a few seconds. Add the jaggery and salt and mix well.
Add the vegetables, mix
well and cook for three to four minutes.
Take the pan off the heat and
set aside to cool. Stir in the vinegar and mix well.
Store this achaar in the sterilised
glass bottles.
Submit this recipe with the
following events:
Blogging Marathon page for the other Blogging Marathoners doing BM#25

Enter your email address:
Delivered by FeedBurner