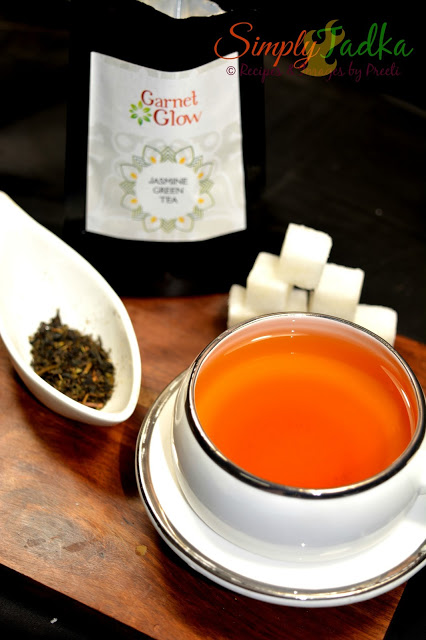 Last Updated on
This time I had received Garnet Glow Tea Samples from FBCI team for tasting
review. I'm really excited to taste different flavors of tea compare to natural
one. I love tea, every morning my day starts with a cup of tea which helps in
reducing stress and keeps me fresh. We are big
lover of Darjeeling special tea. I received three small sachets, one of Coconut
Darjeeling tea, Jasmine Green tea and Masala Green.
I tried jasmine green tea, leaves looked so good and smelled was so
fresh… Even you can feel nice fragrance and aroma while boiling tea in water.
Coconut Darjeeling Tea: Enjoy the creamy texture, sweet flavor and strong
aroma of coconut combined perfectly with the earthy flavor of black tea. This
tea serves a well-blended flavor with smooth texture, and not to forget
provides many health benefits.
Health Benefits: Dissolve Kidney Stones, Detoxifies the Body,
Strengthens Bones, Helps In Weight Loss, And Improves Digestion.
Jasmine Green Tea: Sip in the lavishly layered cup of
tea infused with the boldness of black tea which is smoothened by sweet scent
of jasmine. The delicate but exotic aroma of Jasmine pacifies your senses as
soon as you smell it being brewed!
Health Benefits: Powerful Antioxidants, Helps Prevent Cancer, Promotes
Weight Loss, Anti-Aging, Stress Relief.
A combination of the finest tea leaves sourced from India's best
plantations and a handpicked assortment of delicate flavours, Garnet Glow Tea
is a guaranteed treat for tea lovers.
Make sure to try all our special blends, each with its unique delicate
flavour and healing properties.



F&B Product Review – powered by FBCI – Food Bloggers
Council, INDIA
Enter your email address:
Delivered by FeedBurner