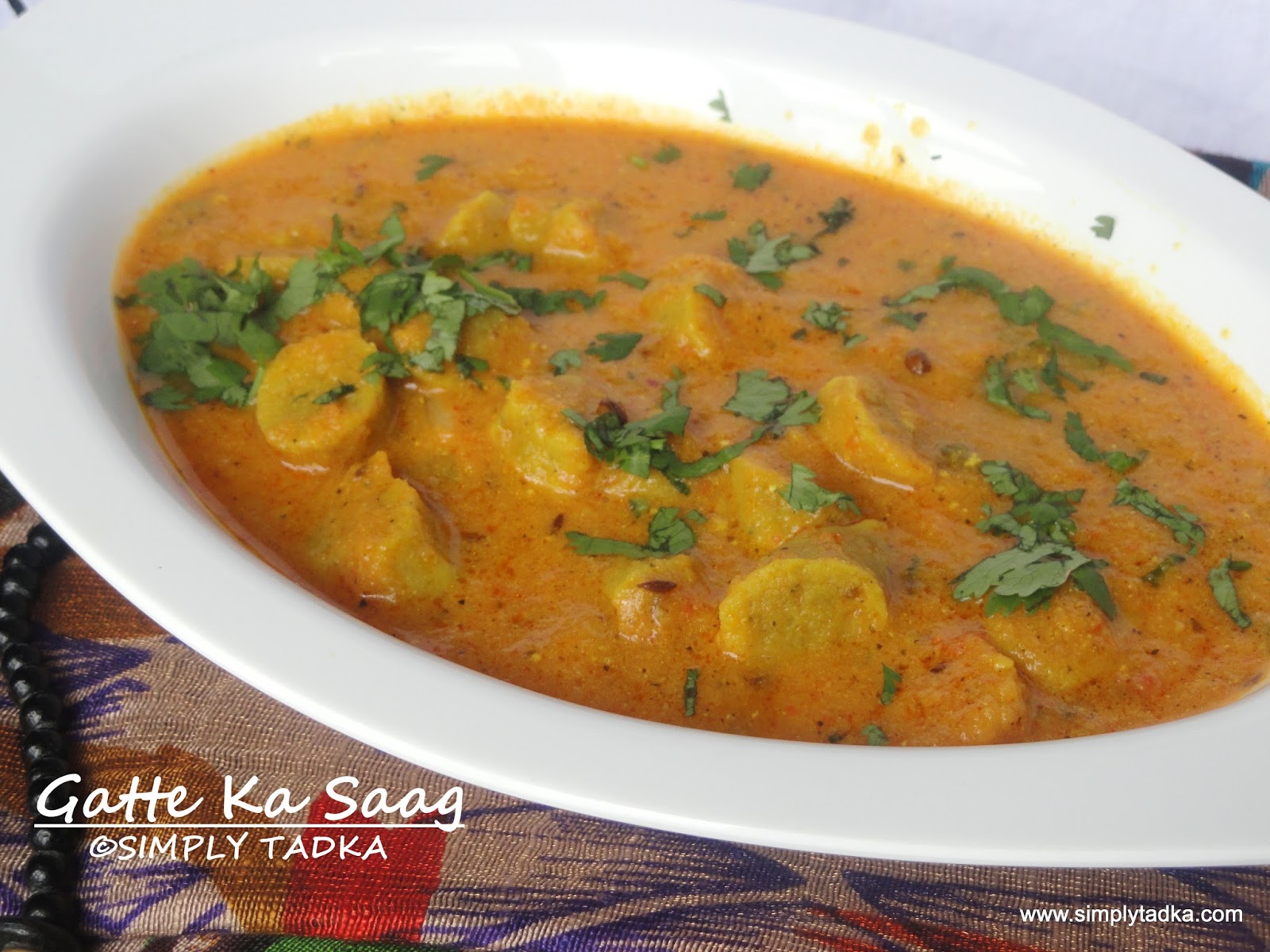 Last Updated on
Today I post
one of very popular and amazing recipe from the Rajasthan region, all of you heard
about this curry. It's known as Gatte ki Saag or Gatte ki Sabzi. This recipe
comes under regional food theme for BM#32. My mother calls Besan ki Arbi to this
Gatte Ka Saag. It's a perfect match with Bajre ki roti and motichoor ke laddoo.
There is no
need of vegetable for this recipe. It can be divided into two processes;
one is preparing gatte or gram flour dumplings and second is gravy. For gatte, we
have to combine gram flour with flavorful spices and then knead the smooth
dough. This gatte will serve with tomato based gravy. Main ingredient in this gravy
is curd and other side tomatoes are completely optional.
Preparation
Time: 30 Minutes
Cooking
Time: 25-30 Minutes
Servings: 4
Category:
Veg Curry
Ingredients:
For Gatte
1 Cup Gram Flour
1 Tbsp. Oil
1/2 Tsp. Fennel Seeds
1/2 Tsp. Coriander Seeds
1/2 Tsp. Cumin Seeds
1/3 Tsp. Carom Seeds
Pinch of Asafoetida
1 Tsp. Kasoori Methi
Salt to taste
1/4 Tsp. Red Chili Powder
1/2 Tsp. Turmeric Powder
1/2 Tsp. Coriander Powder
For Gravy
3 Tomatoes, Chopped
2 Green Chilies, Chopped
1 Tsp. Ginger, Grated
1/4 Cup Curd
1/2 Tsp. Coriander seeds
1/2 Tsp. Cumin Seeds
5-6 Curry Leaves
Pinch of Asafoetida
2 Tbsp. Clarifying Butter
Salt to taste
1/2 Tsp. Red Chili Powder
1/2 Tsp. Turmeric Powder
1 Tsp. Coriander Powder
Green Coriander, for garnishing
Instructions:
Combine all ingredients of gatte in separate bowl.
Add little water to prepare smooth dough. Knead
extra oil and knead again.
Divide
the dough into two equal portions and roll it into long stick shape.
Heat the enough water into deep pan. When water
starts boiling, Add sticks one by one.
Cook the dough for 15 minutes at medium
flame. Drain it and keep aside.
Cut the sticks into small round shape slices.
(For more detail check pictures)
Blend the tomatoes, green chili and ginger in
blender till to smooth puree.
Heat the ghee in pan and add coriander seeds,
cumin seeds and asafoetida and curry leaves.
When they start splutter, add puree and cook
till to thick consistency.
Add the spices in gravy except salt.
Add whisked curd into gravy and stir
constantly while adding curd.
Add water if needed and chopped gatte into
gravy. Adjust the salt according to taste.
Sprinkle little garam masala and garnish with
chopped coriander leaves.
Serve hot gatte ka saag with bajre ki roti or
phulka.
Note:
If you are not oil conscious, then you can
deep fry the sticks till to golden brown.
For more interesting color, you can add
tempering on the top of sabzi.
Enter your email address:
Delivered by FeedBurner