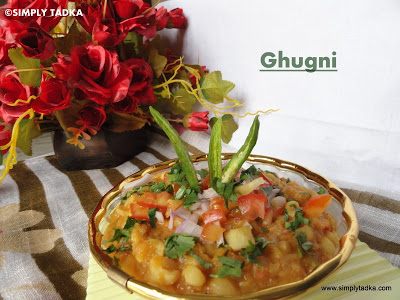 Last Updated on
On the last day of this
North East cuisine, I choose very popular snack i.e. Ghugni is an evening
street snack in Eastern India especially in Bengal, Assam, Bihar, and Orissa.
For this recipe, soak dried yellow peas or green peas overnight and cook into
gravy with Bengali spices and serve with kurmura or onion bhajiya. Generally in
our North India (Delhi) side, this snack is served with kulcha's, and garnish
with chopped tomatoes, onions and green chili. It's all time fav of mine.
Preparation Time: Less than
15 Minutes
Cooking Time: 30 Minutes
Servings:
4 persons
Ingredients
1 Cup
Dried Yellow Peas
2 Cup Water
Salt to taste
1 Tbsp. Oil
1 Onion, Chopped
1 Tsp. Ginger, Grated
1 Tomato, Chopped
Green Chilies as
per taste
1/2 Tsp. Cumin Powder
1 Tsp. Coriander
Powder
1 Tsp. Garam Masala
Green Coriander Leaves
for garnishing, Chopped
Tamarind chutney,
optional
1 Lemon Juice
Direction
Wash and Soak the
peas in water overnight. Boil the soaked peas with some salt till soft or cook
in pressure cooker till to one whistle. Heat
the oil in the pan on medium flame. Add cumin, when start splutter. Add the
onion, green chili and ginger. Cook till the onion turns brown.
Add chopped tomatoes and
sauté till to soft and add coriander powder, salt, red chili and garam masala.
Add boiled peas and mix well. Garnish
with tamarind chutney, coriander, onion, chili, tomato and juice with little
chat masala.
Enter your email address:
Delivered by FeedBurner