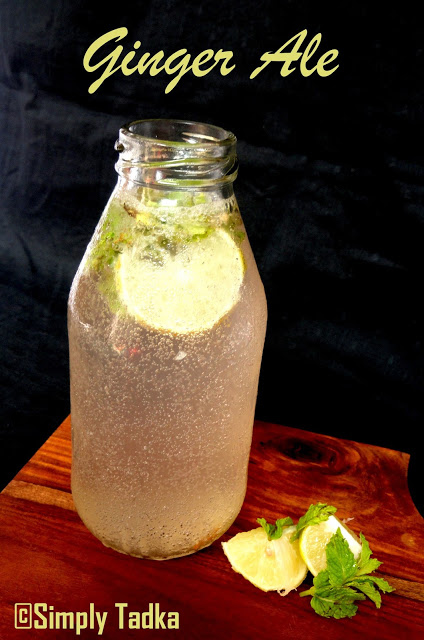 Last Updated on
Ginger Ale syrup is good for many summer
cooler recipes. For this recipe, you have to boil the ginger with sugar and
water. Even you can store this syrup in glass jar in fridge for at least one week. Once
you have the ginger ale syrup on hand, it's very easy to prepare summer
coolers, lemonade and more beverages.
Preparation
Time: 5 Minutes
Cooking
Time:  More than 30 Minutes
Servings:
2
Category:
Beverages
Cuisine:
Indian
Ingredients:
For
Ginger Ale Syrup
1 Cup Ginger, peeled and chopped
3/4 Cup Sugar
2 Cup Water
For
Lemonade
3 Tbsps. Lemon Juice
2 Bottles Club Soda
Ginger Ale Syrup
Instructions:
Boil the ginger in water for 20 minutes
and remove from the flame and strain it. Again add this ginger liquid in
saucepan and add sugar and pinch of salt. Boil it until sugar has dissolved.
Keep this ginger syrup in glass jar for further use.
Now add syrup, lemon juice and soda in
pitcher. Serve chilled with lemon wedges and ice cubes. Adjust the taste
carefully.
Tags: how to prepare ginger ale at home, homemade ginger ale,
ginger recipe, summer recipe, drinks, beverages , mocktails, lemonade recipes,
lemon recipes, healthy recipes, simple recipe, simply tadka, soda recipe.
Enter your email address:
Delivered by FeedBurner