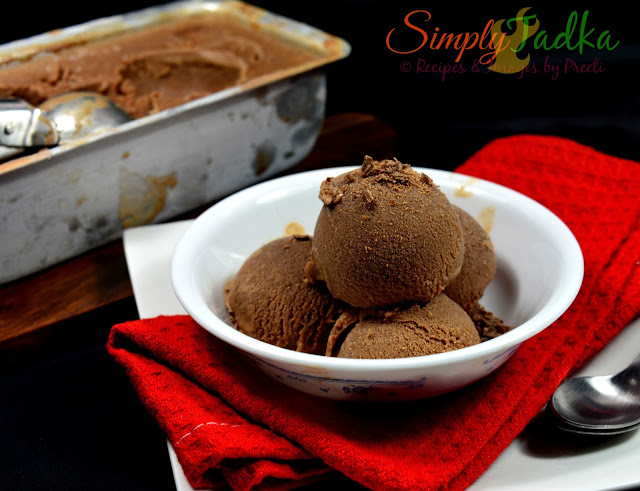 Last Updated on
Chocolate
ice-cream is one the bestselling flavor of ice-cream in world after vanilla.
Chocolate ice-cream is made with natural and artificial flavors of chocolate.
This time I shared eggless vegetarian homemade chocolate ice-cream, it's quite
easy to make at home.
For
an interesting twist, I added flavor of ginger in ice-cream with chocolate.
Love the flavor of ginger with chocolate. If you not ginger person, then avoid
it and follow the same recipe for simple chocolate ice-cream. If you like
fluffy and smooth texture ice-cream, for that you have to churn the ice-cream
atleast twice.
More Ice-cream
recipes are here:
Ginger Chocolate Ice-Cream
| Eggless Ginger Chocolate Ice-Cream recipes
Preparation Time: 10 Minutes
Cooking Time: 15 Minutes
Freezing Time:  10 Hrs
Servings: 6
Category: Dessert
Cuisine: Frozen
Cooking Method: Boiling, Freezing
Instructions:
2 1/2
Cup Full Cream Milk
1 Tbsp.
Custard Powder
1 Tbsp.
Cocoa Powder
1/2 Cup
Milk Chocolate, Grated
1/2 Cup
Dark Chocolate, Grated
1/2 Cup
Sugar
1/2Cup
Cream
1 Tbsp.
Ginger Juice
1/2
Tsp. Vanilla Essence
Instructions:
Combine
cocoa powder, custard powder and 2tbsp milk in a small bowl and mix well. Keep
aside.
Combine
the milk, chocolate and sugar, mix well and cook on medium flame,
keep stirring.
Add
cocoa powder and custard mixture and ginger juice mix well.
Cook on
low flame for 5-7 minutes, keep stirring to avoid lumps. Remove from the flame.
Add
vanilla essence and cool completely on room temp.
Add
fresh cream and mix well.
Pour
the mixture in freezer safe mould or aluminium mould. Cover with foil or cling
film and keep in freeze for 5-6 hours to set.
Pour
the mixture into jar and blend till to smooth.
Again
transfer the mixture into same container and cover it. Freeze it for atleast
8-10 hours.
Scoop
it and serve in bowl or cone with extra chocolate syrup.
Notes: Ginger juice is
optional if you not like it. For more fluffy and soft icecream, do blend
process twice.
Tags: eggless recipes, simply
tadka, blogging marathon, chocolate recipes, icecream recipes, eggless
chocolate icecream recipes, vegetarian icecream recipes, summer recipes, frozen
recipes, milk recipes, cream recipes, custard recipes, cocoa powder recipes,
ginger icecream ginger recipes, kids special, desserts.
Check out the Blogging Marathon page for the other Blogging Marathoners doing this BM#73