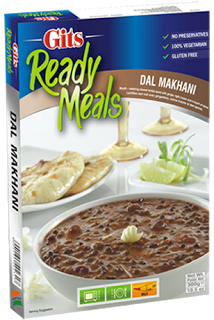 Last Updated on
Are you lazy to cook? Or Have not enough time
to cook? Then Gits have good news, you need not do either! Grab a packet of
Gits Ready Meals and satisfy your hunger in 2 Minutes.
I received a small compliment pack from Gits which
includes Dal Makhani and Gulab Jamun for review. I never tried Gits product, it's
my first time. I heard about Gits through TV commercial and friends… very
renowned brand in market.
The
first product that I tasted was Dal Makhani. It's a pretty common dish which we
were ordered or cook when guest arrived. I love the homemade dal makhani
instead of ordering from the restaurant. But when I tried Gits Dal Makhani
ready meals was really good and my in-laws also like it. The quality of dal
makhani is good and very creamy, buttery and thick consistency is available in
packet. The pack weights 300gm, Mild spicy and 100% vegetarian. The Price of the product is 65 MRP.
Advantages of Gits Products:
No MSG
Fully
Cooked
No
Preservatives
Packaging of the
product is great and cooking instructions is pretty simple. You can either
microwave or put the packet in boiling water. It took us five minutes for the
product to be ready.
I served this dal in front of my in-laws for
dinner, and they loved it. Even my father-in-law will definitely go market to
buy more varieties in Gits ready meals for upcoming guests or when mom's has
not enough time to cook.
They claim that their products are hot
filled in laminated multi-layered aluminum foil pouches which are able to
withstand thermal processing temperature in excess of 100°C at the specified
pressure required for sterilization. And hence they have a shelf life of
12 months in room temperature.

I will definitely recommend these products to my
friends and family.
Enter your email address:
Delivered by FeedBurner