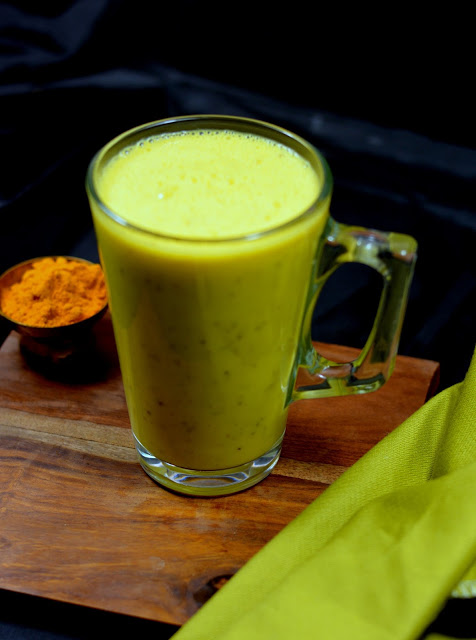 Last Updated on
Turmeric is the golden yellow spice, generally used in Asian
Kitchen. It is obtained from the ginger alike rhizome of curcuma longa, a
tropical herb from India. The well-researched anti-inflammatory, antioxidant,
anti-cancer properties of turmeric make it worth including in your diet. You
can take it in milk or in curry.
Turmeric milk is known as golden milk because of its beautiful
color. You can use dry powder or fresh turmeric root in milk. This golden milk
is easy to prepare and highly beneficial.
This golden milk smoothie makes you feel good with only 5
ingredients i.e. turmeric, milk, banana, chia seeds and some spices. Nutrient
content: 2 teaspoons of turmeric – 16 calories, 17% daily manganese and 10%
daily iron and great source of vitamin
B6, dietary fiber, and potassium.
The reason chia seeds are so beneficial is due to them being rich in fiber, omega-3 fats, protein,
vitamins and minerals.
Bananas are a highly nutritious fruit used to boost the health.
They also contain protein and healthy fiber, along with a large dose of healthy
potassium. Bananas actually make a healthy snack for just about everyone —
from babies to adults.
Golden Milk Smoothie | Smoothie Recipe
Preparation Time:
5 Minutes
Cooking Time: 5
Mintues
Servings: 2
Category:
Beverages
Cuisine: Fusion
Cooking Method:
Blending
Ingredients
2 Cups Full Cream Milk
1 Tsp. Turmeric powder
1/2 Tsp. Cardamom powder
1/4 Tsp. Cinnamon Powder
2 Tbsp. Honey
1/4 Tsp. Black Pepper Powder
1/2 Tsp. Vanilla Essence
2 Ripe Bananas, Chopped
2 Tbsps. Chia Seeds
Instructions
Boil the milk on high flame, when milk starts
boiling.
Add cardamom, cinnamon, honey, turmeric, pepper
powder and vanilla essence. Stir and boil for 2 mintues only.
Remove from the flame and keep at room
temperature to cool.
Now your golden milk is ready to use furthur.
Add chia seeds and chopped banana and blend it
till to smooth. Serve chilled.
Notes: You can add scoop of vanilla icecream also at
the time of blending, optional.
You can add sugar also instead of honey.
Add 1/2 cup of rolled oats also to make
healthier.
Tags: how to make
golden milk smoothie, smoothie, milk recipe, golden milk recipe, turmeric milk
recipe, healthy recipe, glutenfree, protein recipe, bloggingmarathon,
simplytadka, foodblogging, blending, milkshake, chia seeds recipe, banana
recipe, banana milk recipe, no cooking recipe, instant recipe, protein rich
recipe.
Did you make this recipe?
If yes, do let us know how it turned out in the comments below.
#simplytadkarecipes and tag us @simplytadka
Check out the Blogging Marathon page for the other Blogging Marathoners doing BM# 80
Enter your email address:
Delivered by FeedBurner