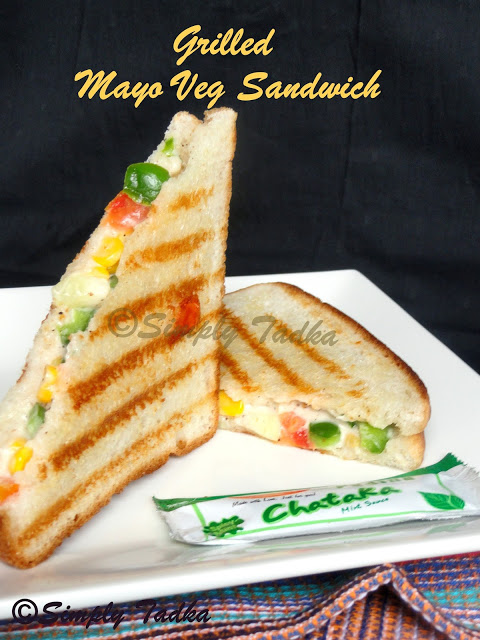 Last Updated on
This sandwich is a simple and healthy
sandwich recipe which made with few ingredients which are easily available in
your kitchen. I used eggless mayo which I made at home, you can use any flavor
of mayo to prepare this sandwich or regular veg mayo. You can use cabbage, carrot, colored bell peppers and more seasonal vegetables which easily available.
Preparation
Time: 10 Minutes
Cooking
Time: 10 Minutes
Servings: 2
Category: Sandwiches
Ingredients:

6 White Bread Slices,
1/2 Cup Veg Mayonnaise
1/3 Cup Onion, Chopped
1/4 Cup Tomato, Chopped
1/4 Cup Capsicum, Chopped
1/4 Cup Corn
Butter, for greasing
Salt to taste
Black Pepper to taste
Chaat Masala to taste
Instructions:
Take a bowl, add chopped onion, capsicum,
corn and tomatoes. Add mayonnaise, salt and pepper powder. Mix gently.
Spread the mixture on bread slices evenly and
cover it with another slice. Grease little butter and grilled it in griller.
Tags: vegetable sandwich, eggless mayonnaise,
mayonnaise sandwich, grilled sandwiches, grilled, sandwiches, breakfast, bread
recipes, snacks, easy recipes, simple recipes, simply tadka, tiffin recipes,
kids recipes.
Enter your email address:
Delivered by FeedBurner