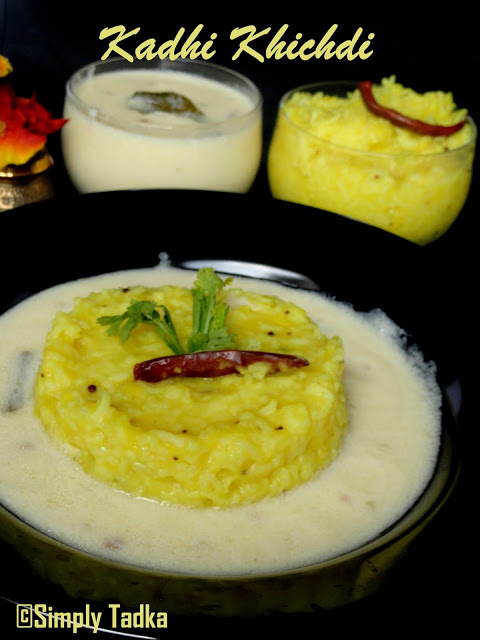 Last Updated on
Coming to next recipe of Blogging Marathon 56
for day 3rd, I choose Gujarati Khadi and Khichdi under combo theme.
Gujarati Kadhi Khichdi is perfect meal for dinner or lunch. This recipe is
simple and healthy meal which you can prepared with few ingredients which are
easily available at home.
In this recipe kadhi is little mild compare
to Punjabi kadhi and taste is little sweet and color is white compare to
regular yellow Punjabi Kadhi. It's a perfect balance of sweet and savory taste.
Mostly steam rice or jeera rice is served
with Punjabi kadhi but in Gujarat, kadhi is served with khichdi. In this
khichdi recipe, I used arhar dal and rice with tempering ingredients. I always prefer
to use desi ghee in my recipes which really enhance the taste and aroma of
recipe. It's really healthy and nutritious meal which you can serve anytime
with sabzi and phulkas.
Preparation
Time: 40 Minutes
Cooking
Time: 20 Minutes
Servings: 3
Category:
Main Course
Cuisine:
Gujarati Cuisine
Ingredients:
For Kadhi
3 Cups Curd or Buttermilk
4 Tbsps. Besan or Gram flour
1 Tsp. Chili, chopped
Few Curry Leaves
2-3 Whole Red Chilies- Dried
3 Tbsps. Sugar
Pinch of Asafoetida
1/2 Tsp. Fenugreek Seeds
1 Tsp. Cumin Seeds
Salt to Taste
3 Tbsps. Oil
For Khichdi
1 Cup Rice
1/2 Cup Yellow Pigeon Pea/ Arhar dal
1 Tsp. Mustard seeds
Pinch of Asafoetida
2 Whole Red Chilles- Dried
1/2 Tsp. Turmeric Powder
Salt to Taste
2 Tbsps. Desi Ghee/ Clarifying Butter
Instructions:
For Kadhi
Whisk the curd, flour, sugar and salt with
addition of 3cups of water.
Heat the oil the heavy bottom pan.
Add asafoetida, curry leaves, whole red
chilies, fenugreek, and cumin.
Add green chilies and sauté 1 minute.
Add the curd-flour mixture in pan and stir it
continuously on medium flame till to little thicken.
Cook few minutes and garnish with coriander.
For Khichdi
Wash and soak the rice and dal separately for
half an hour.
Add the dal and rice together with 3 cup of
water. Add salt and turmeric powder in cooker.
Cook the khichdi in a pressure cooker till to
3-4 whistles.
Heat the ghee in tadka pan and add red
chilies, asafoetida and mustard seeds.
When they start crackle, pour into khichdi.
Serve with Kadhi.
Tags:how
to cook kadhi khichdi,gujarati kadhi khichdi, kadhi, khichdi, maincourse
recipes, combo recipes, gujarati cuisine, rice recipe, dal recipe, gram flour
recipe,blogging marathon, simplytadka, healthy recipe, gujju recipe, pressure
cooker recipe, easy and simple recipe, tiffin recipes, lunchbox meal.
Check out the Blogging Marathon page for the other Blogging Marathoners doing BM# 56
Enter your email address:
Delivered by FeedBurner