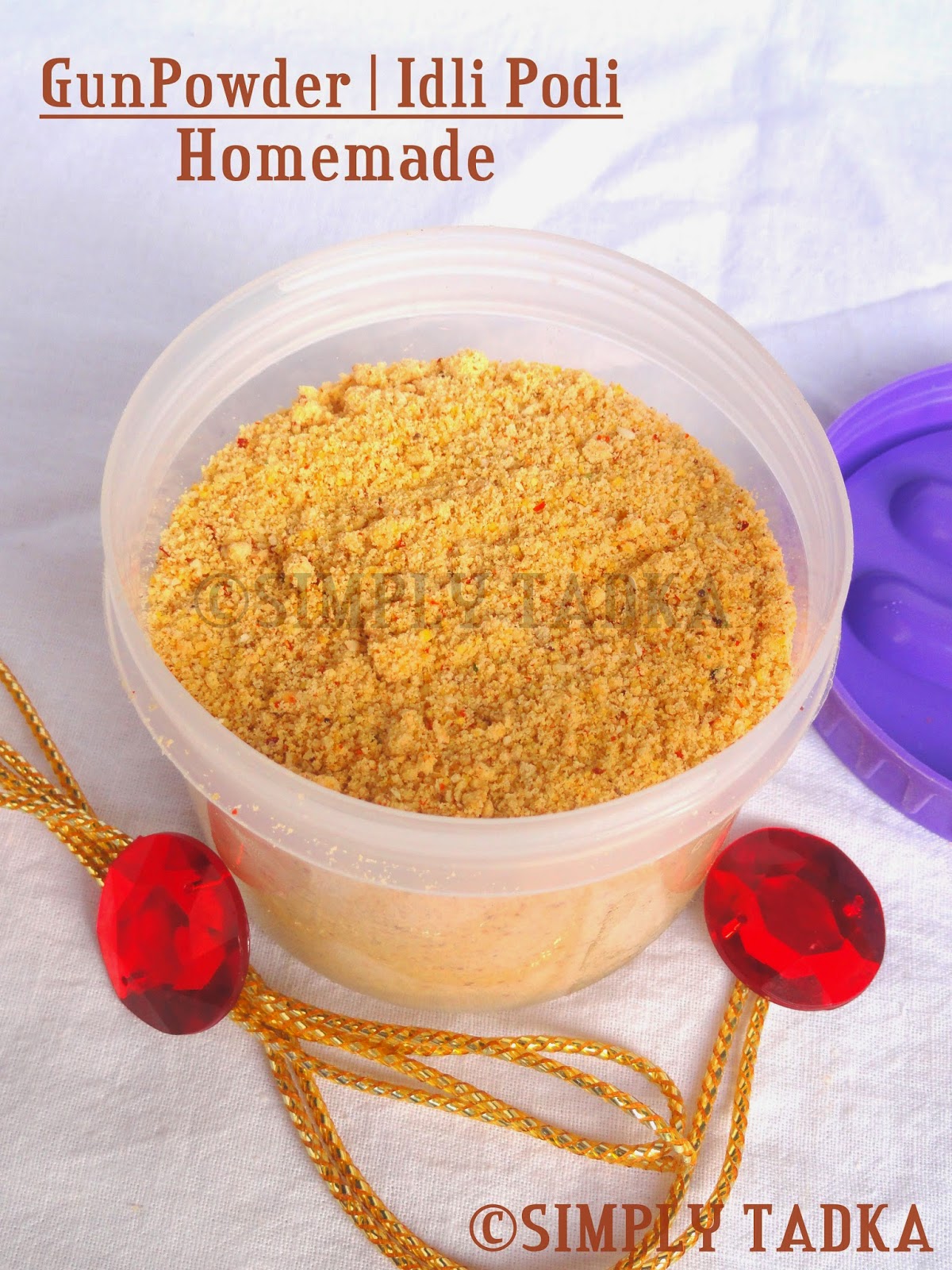 Last Updated on
The Gunpowder for Idli is one of the most famous items/condiments in
India, especially down south in Tamil Nadu. The gunpowder is a versatile food
item, which can be used both as a seasoning, or as a side dish or even as a
powder for any of your choice of potato or vegetable fries. It's known as
molaha podi for this recipe we needs urad dal, chana dal, peanuts, sesame and
dried red chilies.
Preparation
Time: 10 Minutes
Cooking
Time: 20 Minutes
Servings:
2 Cup
Category:
Homemade Condiments
Cuisine:
Andhra Cuisine
Ingredients:
1/2 Cup Urad Dal/ 
1/2 Cup Chana Dal/ Bengal Gram
1/2 Cup Peanuts
1/2 Cup Sesame Seeds- white
3-5 Dried Red Chilies, whole
6-8 Curry Leaves
1 Tbsp. Coconut Powder (Dried)
1/2 Tsp. Asafoetida
Salt to Taste
Instructions:
Dry roast the ingredients both dal, red chilies,
sesame seeds and peanuts, coconut powder, curry leaves one by one in pan without using oil. Keep aside to
cool at room temperature.
In a mixer grinder, Add salt and
asafoetida with roasted ingredients in jar and grind them coarsely.
Notes: Adjust the salt as per your taste. Don't grind it too
powdery; let the texture of the mixture be a little coarse.
Tags: how to prepare gun powder at home,
basic cooking recipes, homemade recipes, spices recipes, gun powder recipes,
southindian recipes, side  recipes,
simplytadka recipes, peanuts, whole dried red chili, pulses, lentils, sesame
seeds, Andhra cuisine, molaha podi recipes.
Enter your email address:
Delivered by FeedBurner