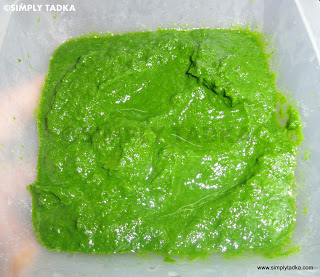 Last Updated on
Spinach
has a high nutritional value and is extremely rich in antioxidants, especially
when fresh, steamed, or quickly boiled. It is a rich source of vitamin
A (and especially high in lutein), vitamin C, vitamin
E, vitamin K, magnesium, manganese, iron, vitamin B2, calcium,
potassium, vitamin B6, folicacid, copper, protein, phosphorus, zinc, niacin, selenium and omega-3
fatty acids. Recently, opioid peptides called rubiscolins have
also been found in spinach.
This time I post how to prepare spinach puree with in few minutes at home. Its very easy process and you can store this puree in frozen form. Just place this puree in ice mould and keep in freezer for few hours to set. Keep this in airtight pouch in freezer for further to use.
Preparation Time: 15 Minutes
Cooking Time: 10 Minutes
Ingredients
Spinach Bunch
Water
Tool
Blender/ Mixer
Direction
Clean and wash
the spinach leaves and boil the leaves in boiling water for 10 minutes. Drain
and wash under running cold water to maintain green color of spinach. Squeeze this
blanch leaves. Keep aside to cool. Blend
boiled spinach into blender for smooth puree consistency. Spinach puree is
ready to use.
Recipes

Enter your email address:
Delivered by FeedBurner