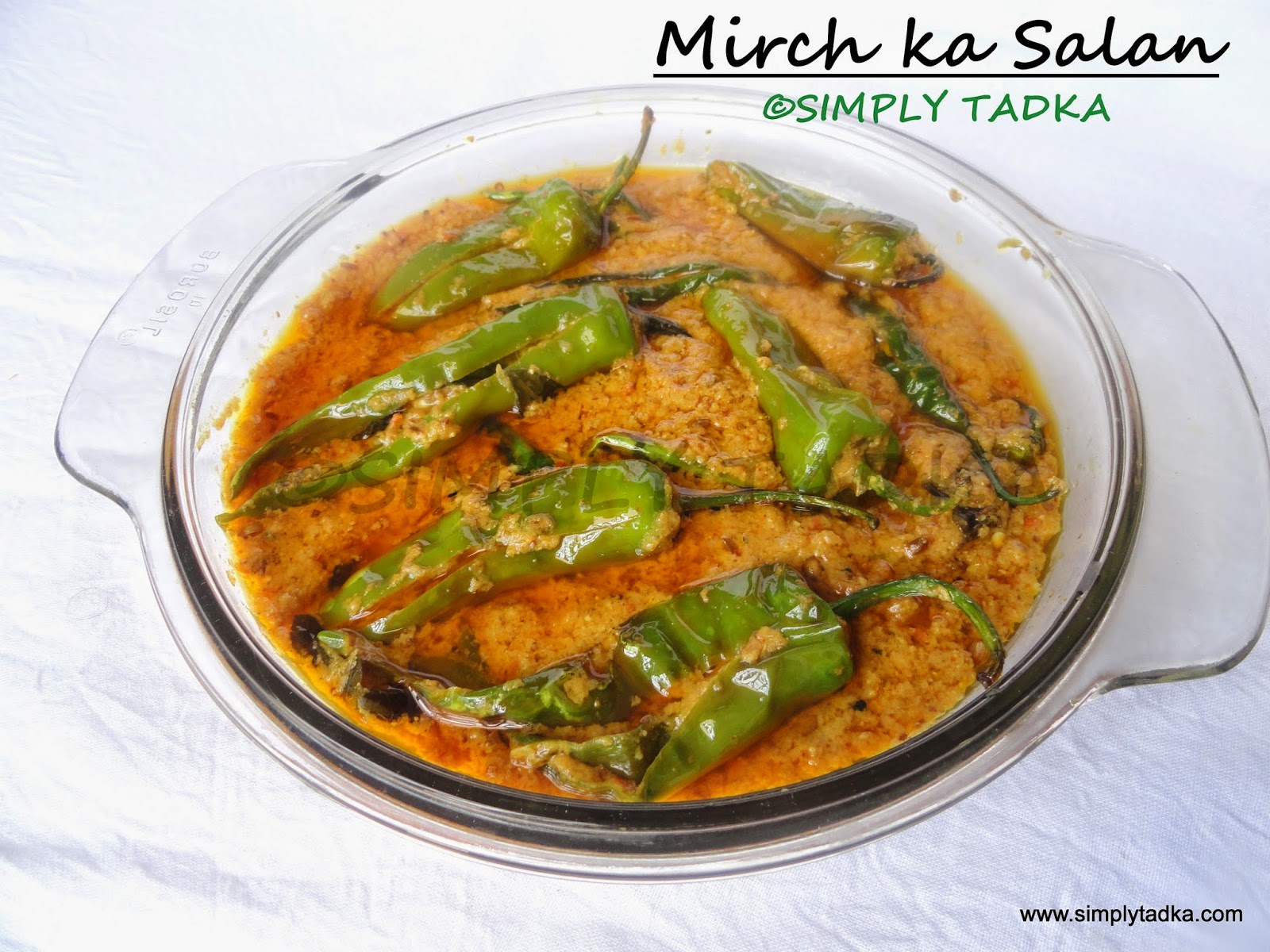 Last Updated on
Today I shared "Hyderabadi Mirch Ka Salan" recipe under the theme of picking all the way from different state, where we have
to shared three different recipes from different state or regions of India. When
you talk about Hyderabad cuisine, biryani and mirchi ka salaan both are comes
first in our mind. Hyderabadi curries are lightly tangy and creamy in taste. You
can serve mirchi ka salan with biryani or naan as main course.
Preparation
Time: 20 Minutes
Cooking
Time: 25 Minutes
Servings: 4
Category:
Hyderabadi Cuisine
Ingredients:

200gm Green Chilies
1/2 Tsp. Cumin Seeds
6-8 Curry Leaves
1/2 Tsp. Mustard Seeds
1/4 Tsp. Fenugreek Seeds
Salt to taste
1 Tsp. Coriander Powder
1/2 Tsp. Turmeric Powder
1/2 Tsp. Red Chili Powder
4 Tbsp. Oil
Green Coriander, for garnishing
For Dry
Powder
1 Tbsp. Cumin Seeds
2 Tbsp. Peanuts
2 Tbsp. Sesame Seeds (white)
For Onion- Tomato
Paste
1 Onion, Medium sized
2 Tomatoes, Medium sized
1 Tsp. Ginger, grated
2 Tbsp. Coconut, grated
Instructions:
Dry roast the peanuts, sesame seeds and cumin
seeds together in pan until to slightly brown. Remove and prepare powder.
Grind the onion, tomatoes, ginger and coconut
together for ground paste.
Heat the oil in deep pan. Wash and slit the
green chilies.
Remove the seeds and fry in hot oil until to
white and remove from the oil in separate plate.
In the same oil, add cumin seeds, curry
leaves, mustard seeds and fenugreek seeds. When they start crackle, add ground
paste.
Add coriander powder, turmeric powder, chili
powder and dry powder. Cook for few minutes until to oil comes on the top.
Add 2 cups of water and cook until to gravy
becomes thick.
Add fried green chillies and salt and mix it.
Garnish with green coriander and serve hot
with chapati or biryani.
Tags:
how to prepare hyderabadi mirchi ka salan, mirch ka salan, salan recipes, mirch
recipes, pepper recipes, main course recipes, hyderabadi recipes, spicy
recipes, mirchi ka salan.
Enter your email address:
Delivered by FeedBurner