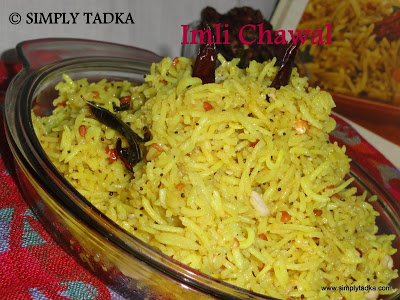 Last Updated on
Today
again I post one more very interesting rice recipe i.e. "IMLI CHAWAL" from the "Cooking
with Love" cook book written by Chef Sanjeev Kapoor.
Under this
rice recipe, we have to cook rice and fold with tempering of tamarind pulp, mustard,
red chili and curry leaves and garnish with roasted peanuts and sesame seeds. Tamarind
enhances the flavour of rice in this method, my family really like this recipe.
You can
store the tamarind pulp in freeze for few days and use when required. Imli rice
will keep for 3-4 days and it's a good option for picnic time or while
travelling. For instant version, you can
add this tamarind pulp into leftover rice and enjoy this Imli Chawal anytime.
Preparation time: 10-15 Minutes
Cooking time: 20 Minutes
Serving: 3 Servings
Ingredients
1 cup
Basamati Rice
1/4 Tsp.
Turmeric Powder
Salt to
taste
For Tempering
4 Tbsp.
Tamarind pulp/ Imli
2 Tbsp.
Clarifying Ghee
1/2 Tsp.
Mustard seeds/ Rai
1 Tsp.
Skinless Split Black Gram/ Dhuli Urad Dal
1 Tsp.
Split Bengal Gram/ Chana Dal
1/4 Tsp.
Asafoetida/ Hing
10-12
Curry leaves
1 Green
Chili, Chopped
2-3 Whole
Dried Red Chilies
1 Tsp.
Roasted Sesame Seeds
2 Tbsp.
Roasted crushed Peanuts.
Pictorial


Direction
Cook the rice with the turmeric powder, salt and three
cups of water till done.
Ensure that the rice grains remain separate and keep
aside to cool.
Heat the oil in a pan. Add the mustard seeds, black gram
and Bengal gram and sauté till the grams turn golden.
Add the asafoetida, curry leaves, green chilies and red chilies and sauté till fragrant.
Add the tamarind
pulp diluted in quarter cup of water and mix.
Cook till the mixture thicken and add rice gently and
adjust salt as per taste.
Add the peanuts and sesame seeds and mix gently and serve
hot.
Submit this recipe with the following events:
Blogging Marathon page for the other Blogging Marathoners doing BM#25
Enter your email address:
Delivered by FeedBurner