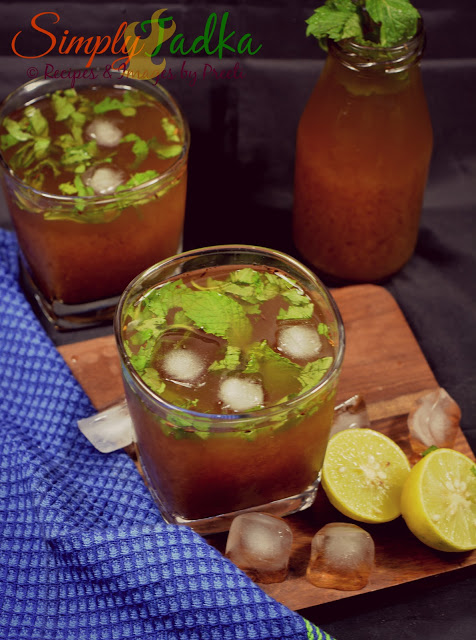 Last Updated on
Imli Ka
Amlana or Tamarind based drink is a tangy and refreshing chilled drink to beat
the heat in summer season. Imli ka amlana is a chilled drink which prepared by
tamarind pulp combine with chilled water and grounded spices and sugar and
served with mint leaves. You can call this imli ka panna too. If you are health
conscious person, then avoid sugar or add jaggery or brown sugar.
Imli Ka Amlana | Imli Ka
Paani | Indian Tamarind Drink Recipes
Preparation Time: 10 Minutes
Cooking Time: NA
Servings: 4
Category: Beverages
Cuisine: Indian
Cooking Method: No Cooking
Ingredients
1/4 Cup
Tamarind Pulp
4 Cup Chilled
Water
1/4 Cup
Sugar Powdered
Black
Salt to Taste
1/2
Tsp. Black Pepper Powder
1 Tsp. Roasted
Cumin Powder
1/2
Tsp. Green Cardamom Powder
2 Tsp. Lemon
Juice
Few Mint
Leaves, Chopped
Ice
Cubes as Needed
Instructions:
Combine
all ingredients together in a pitcher and mix well.
Serve
in individual glass with ice cubes.
Garnish
with lemon wedges and mint leaves.
Note: You can add jaggery also
instead of sugar.
Tags: How to make imli ka amlana,
imli ka sharbat, imli recipe, tamarind recipe, indian drink, summer recipes,
summer coolers, blogging marathon, simply tadka recipe, food blogging,
beverages, healthy recipe, simple and quick recipe, sharbat recipes.
Check out the Blogging Marathon page for the other Blogging Marathoners doing this BM#74