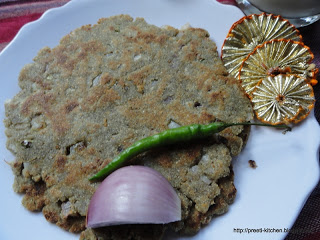 Last Updated on
For this September month's
Indian Cooking Challenge
, hosted by
Srivalli chose Two types of Indian Bread:
Besan
Masala Roti
and
Bajra Aloo Roti
,
as a Marwari cuisine and Bajra Roti is also from Haryana Cuisine also. This
time Srivalli ask to me ICC recommendation, I just try to give highlight on
Haryana cuisine also. Hope other ICC Member like this Month Challenge.
We always made Bajra khichdi in winter season with accomplish with
very hot milk which very beneficial for health and protect the body from the
winter season. In village areas, they are always prepared Bajra ka rotla or
Bajra ki roti and eat with sukhi sabzi aur dal and also take masala chaj/ lassi
with Gurr. It's a complete meal of Haryana plate.
Another recipe, besan masala roti is also from Marwari cuisine from
Rajasthan. Under this recipe we stuff gram flour with some spices and cook on
tawa with ghee and serve with curd.
Bajra Aloo Roti



Preparation Time: 15 Minutes
Cooking Time: 10 Minutes
Serving: 2 Roti's
Ingredients:
3/4 Cup Black Millet Flour/ Bajra Flour
1/4 Cup Boiled Potato, Mashed
1/8 Cup Onion, Chopped
1 Green Chili, Chopped
2 Tbsp. Fresh Coconut, Grated
1/4 Tsp.nBlack Pepper Powder
Salt to taste
A Pinch of Garam Masala
1/4 Tsp. Dry Mango Powder
Ghee for Frying
Directions
Combine all ingredients together in same bowl and make soft dough.
I did not use single drop of water. If require use lukewarm water in it. Now divide
the dough into equal two portions and roll out slowly and very carefully with
rolling pin. Heat the tawa and cook the roti and grease the ghee from the both
side till to golden. Serve hot Bajra stuffed roti with Lassi and Gurr.
Pictorial
Besan Ki Masala Roti


Prepartion Time: 10 minutes
Cooking Time: 5 Minutes
Serving: 2 Roti's
Ingredients:
For Dough
1/2 Cup Gram Flour/ Besan
2 Tbsp. Wheat Flour/ Gehun ka Atta
Salt to taste
1 Tsp. Ghee
For Masala Filling
3/4 Tsp. Cumin Powder/ Jeera
1/4 Tsp. Coriander Powder
1/4 Tsp. Red Chili Powder
1/2 Green chilli, Chopped
1/8 Tsp. Turmeric Powder/ Haldi
1/4 Tsp. Dry Mango Powder/ Amchoor
1/2 Tbsp. Ghee
Directions:
In a bowl, mix all ingredients of masala and ghee. Now in another
bowl, combine gram flour, whole wheat flour, salt and ghee. Use enough water
for soft dough like roti. Divide the dough into equal 2 portions and roll it
with rolling pin.
Spread the half portion of masala on the dough and roll it. Fold it
half and fold it again as triangle. Roll out again to make triangular
roti. Heat the tawa on medium flame and
cook till to golden and grease little ghee on both sides as same like paratha. Serve
this Besan masala Roti with Curd.
Submit this Indian
Bread Recipe with the following events: