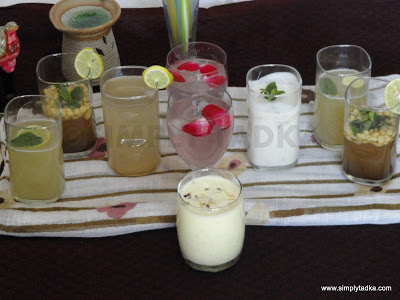 Last Updated on
Indian beverages or Desi Drinks are very popular part of Indian
meal. In Indian drinks, lemon, sugar and spices both are very common
ingredients. On second day of BM# 27, Once again I post some Indian traditional
drinks which are made by everyone at home in summer days… these drinks are very
suitable for every kitty party, kid's party, get together, sport days and especially for
picnic spot.
There are lots of variations in Indian drinks tea, coffee, lassi,
shikanji, sherbet, juice, chaaz, nimbu pani, jaljeera and badam dhoodh. This time I try six types of Indian drinks
which are very common in rural and urban both areas in summer seasons i.e. Shikanji, Aam
panna, Jaljeera, Rose Sherbat, Badam Milk and Pudina Masala Lassi. You can easily find nimbu pani, shikanji, jaljeera, lassi, sherbet and
coconut water and more these types of drink at road sides. All these types of
drinks are good for health and digestion purpose because of salt, lemon juice
and water consistency.
Preparation Time: 10
minutes
Cooking Time: 0 minutes
Servings: 6 glasses
For Shikanji


Ingredients
300ml Water
3 Tbsp. Sugar
2 Tbsp. Lemon juice
1/2 Tsp. Roasted cumin powder
1/2 Tsp. Black salt
1/4 Tsp. Black pepper powder
2-3 Lemon wedges
Few Ice-cubes
Direction
Dissolve sugar in water and mix lemon juice and masala. Filter and garnish with
lemon wedges and ice-cubes.
For Jaljeera




Ingredients
MDH Jal Jeera Masala
200ml Water
Handful Haldiram Boondi
2 Tsp. Lemon juice
Few Mint leaves
Few Ice-cubes
Direction
Mix jaljeera powder and lemon juice in water. garnish with boondi,
mint leaves, lemon wedges and ice-cubes.
For Pudina Masala Lassi


Ingredients
1 Cup Fresh Curd
1/2 Cup Water
Few Mint leaves, Chopped
1/2 Tsp. Roasted Cumin Powder
Black salt to taste
1/4 Tsp. Black pepper powder
Ice-cubes
Direction
Blend curd, water and mint together in blender. Mix spices in lassi
and garnish with mint leaves and ice-cubes.
Blogging Marathon page for the other Blogging Marathoners doing BM#27

Summer Splash Event Hosted by Kalyani
Soul Food Show event and giveaway hosted by Vijaylakshmi
Enter your email address:
Delivered by FeedBurner