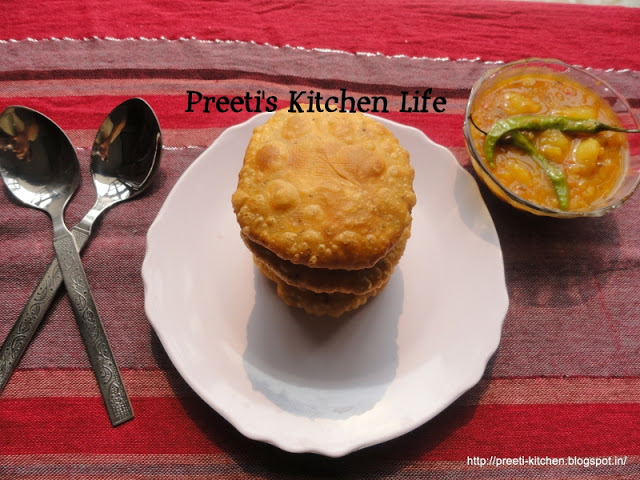 Last Updated on
This time I choose Jodhpuri Special- Aloo Kachori which made with
plain flour dough and filling with potatoes and spices. According to Delhi
chaat style, you can serve this aloo kachori with aloo ki sabzi, imli ki
chutney, chopped onion, green chili, tomatoes and little chaat masala for
increase this taste on another level. It's a complete meal for anytime food and
due to festival days kachori is a great option to serve in front of guests and
families.
The kachori is supposed to have originated in Uttar Pradesh or Rajasthan.
In these states it is usually a
round flattened ball made of fine flour filled with a stuffing of baked mixture
of yellow dal or Urad Dal, besan,
black pepper, red chili powder, salt and
other spices. In Delhi it is often served as a chaat. Also Delhi has another
kind of kachori, called 'Khasta kachori' or 'Raj Kachori'.
Some of the variants popular in North
India includes a version similar
to the Rajasthan version accompanied with a curry made of potatoes and varied
spices or even chana (chole), similar to one served in Chole Bhature.
Preparation Time: 40-45 Minutes
Cooking Time: 35 Minutes
Serving: 4-5 Kachori
Ingredients
For Stuffing
2 Medium Sized Potatoes, Boiled and Mashed
1 Small Onion, fine Chopped
2 Tbsp. Fresh Coriander, Chopped (Optional)
1 Tsp. Amchoor/ Raw Mango Powder
Salt to Taste
1/2 Tsp. Turmeric powder
1/2 Tsp. Coriander Powder
1/2 Tsp. Red chili Powder
1/2 Tsp. Garam masala
1/2 Tsp. Mustard seeds/ Rai
For Dough
1 Cup Plain Flour/ Maida
2 Tbsp. Clarifying Butter/ Melted Ghee
1/2 Tsp. Carom seeds/ Ajwain
Water for Dough
Salt (a pinchful)
Other Ingredients:
Vegetable Oil for deep fry
Onion, chopped
Tomato, Chopped
Aloo Ki sabzi
Pictorial
Directions:
How to Prepare Stuffing
Heat the ghee in pan. Add mustard seeds and onion sauté till to translucent. Add boiled and mashed potatoes and spices together. Mix well and remove the fire. Keep aside to cool.
How to Prepare Dough
Combine all ingredients together in one bowl and make stiff dough as like puri. Cover it with wet clothe for half an hour.
How to Prepare Kachori
Now divide the dough into equal four portions and roll it one by one with the help of rolling pin. Now fill one tbsp. stuffing in centre of wrap and fold the edges of wrap. Flat the kachori with the help of plam slowly slowly.
Heat the vegetable oil in the wok on high flame, when oil is hot enough add kachori one by one and deep fry it on slow flame for more crispiness. Serve this hot kachori with aloo ki sabzi or potato curry and
sweet tangy sauce
. Garnish with onion, tomatoes and little bit salt.
Submit this recipe
with the following events:
Blogging Marathon page for the other Blogging Marathoners doing BM#22
What's with my cuppa? Kid's Delight Hosted by Rasya
Diwali Bash event Hosted by Cooks Joy Celebrate Diwali Navratri Event hosted by simply food
Give me some snacks event Hosted by Pari from Indian vegetarian recipes
60 Days to Christmas – divya
Street Food event hosted by Chef Al Dente