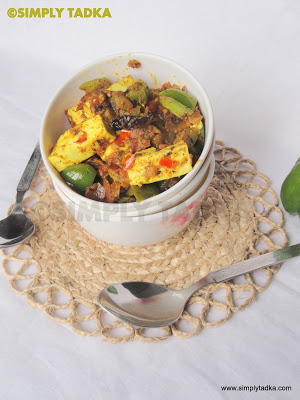 Last Updated on
There are so many variations in paneer curry
recipes with onion and tomatoes masala. But difference in kadai paneer or
karahi paneer or kadhai paneer whatever you call is adding capsicum crunchiness.
Second recipe from Punjabi cuisines is "Kadai Paneer", cottage cheese cooked
with green capsicum, onion and tomatoes in dried form. Kadai paneer is one of
very famous and simple recipe from Punjabi dhaba, which generally serve with
lacchaa parathas or naan. But personally I love kadai paneer with pooris.
You can easily found so many different
variations in recipe of kadai paneer likewise some cook with little gravy and
some cook as dried form. For this kadai paneer recipe, first I prepare onion tomatoes
masala mixture and then cook green capsicum for 4-5 minutes, I don't want to
loss crunchiness from capsicum so be careful during stirring capsicum and then
add chopped paneer. Garnish with green coriander if you like.
Preparation
Time: 15 Minutes
Cooking
Time: 15- 20 minutes
Servings:
2 Persons
Category: Veg Curry
Ingredients
150gm Cottage Cheese/ Paneer, Cubed
1 Large Green Capsicum, Diced
2/3 Cup Tomatoes, Chopped
1/3 Cup Onions, Chopped
2 Green chili, Chopped
1 Tsp. Ginger, Chopped
1 Tsp. Fenugreek Powder/ Kasoori Methi
Powder
1 Tbsp. Clarifying Butter
1/2 Tsp. Coriander Seeds
1/2 Tsp. Cumin Seeds
2 Whole Dried Red Chilies
Salt to Taste
1/2 Tsp. Red Chili Powder
1 Tsp. Coriander Powder
1/2 Tsp. Turmeric Powder
1/4 Tsp. Garam Masala
Pictorial
Instructions:
Heat the ghee in non-stick pan. Add cumin
seeds, coriander seeds and dry red chili. When start splutter, add chopped
onions, green chili and ginger. Cook till to translucent and add tomatoes. Cook
till to soft and mashy.
When tomatoes leaves oil, add spices; salt, turmeric
powder, coriander powder, red chili powder, kasoori methi, and garam masala.
Cook for two minutes and add diced capsicum and cook for few minutes, don't overcook
otherwise miss the crunchiness in capsicum.
Add chopped paneer and garnish with
coriander leaves and pinch of extra garam masala. Now kadai paneer is ready to
serve with lacchaa paratha or tandoori roti.
Enter your email address:
Delivered by FeedBurner