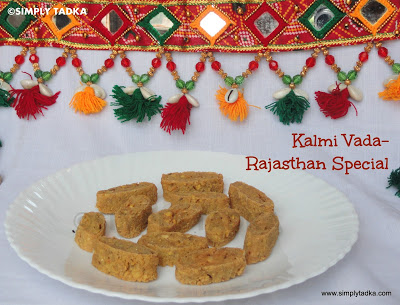 Last Updated on
Kalmi vadas/ Kalmi wada is from Rajasthan
Cuisine, on the 4th day of Blogging Marathon, under traditional
theme, I choose Rajasthani traditional and very popular appetizer i.e. Kalmi
Vada.. …
These days kalmi vada is very popular in
anywhere specially North regions i.e. Haryana, U.P, Delhi and more places where
you easily get this vada at road side or chaat shop as street food. They serve
this vada as dahi bhalla chaat or sometimes mix with dahi bhalla. You can
prepare a platter of chaat with kalmi vada, for this just place vada, spread tamarind
chutney, green chutney and curd. Sprinkle salt, black pepper, chaat masala,
roasted cumin powder and red chili powder. Garnish with potatoes, coriander,
green chili, pomegranate and sev. Otherwise
you can serve this tasty and crispy vada with sauces as tea time snacks. You can
store this for 3-4 days in airtight jar. Crispy and tasty kalmi vada are very easy to
prepare and easy to serve in both form.
Preparation time:
10 Minutes+ 6 hours
Cooking time:
15-20 Minutes
Serving: 25 small
Pieces (6)
Ingredients
1 Cup Bengal Gram/ Chana Dal
1/2 Tsp. Green Chili Paste
1 Tsp. Fennel Powder
1/2 Tsp. Red Chili Powder
1/4 Tsp. Asafoetida
1 Tsp. Coriander Powder
Salt to Taste
Oil for Deep Frying
Pictorial
Combine all ingredients in dal
Give shape of oval and flatten with palm.
Deep fry till to golden
Serve as Chaat
Direction
Wash and soak the lentil/ dal in water for
6-8 hours or overnight. Grind the dal with little water as chunky paste. Place
the paste into separate platter, add other ingredients except oil. Mix well as
dough. Heat the sufficient oil in wok for
deep frying on high flame. Take the small portion of batter and give the shape
of oval and flatten with palm. Place this vada one by one in kadai till to
golden on medium flame. Drain out and cut into 4 pieces and again deep fry for
few minutes. Drain out on tissue paper and sprinkle little chaat masala.
How to Serve
You can
serve this vada's as snack with tea and sauces.
You can
serve this vada's as papri or dahi bhalla chaat with green chutney, imli, dahi,
and spices.
Enter your email address:
Delivered by FeedBurner