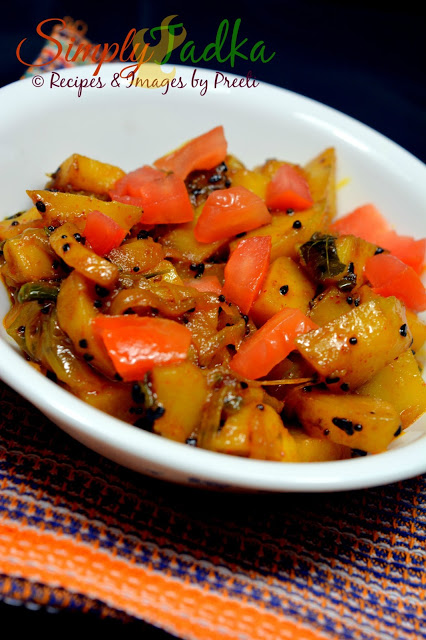 Last Updated on
This
recipe is slightly different from North style aloo pyaz ki sabzi. In this
recipe, you will get the aroma and flavor of mustard seeds, mustard oil and
nigella seeds or kalonji. It is very simple and few ingredient based recipe
which prepared by potato, onion, kalonji and few spices.
Nigella
Seeds are known as onion seeds, kalonji, black caraway, black seeds and black
cumin. This seeds are used as a spice in Indian and Middle Eastern Cuisines.
This seeds taste like a combination of onion, black pepper and oregano and
little bitter in taste. It is been used for approximately 2000yrs as a medicine
for treating headache, nasal congestion, skin diseases and toothache.
Kalonji Aloo Stir Fry |
Stir Fried Potato Onion with Nigella Seeds
Preparation Time: 10 Minutes
Cooking Time: 20 Minutes
Servings: 2
Category: Main Course- Stir Fry
Cuisine: Indian
Ingredients:
2 Large
Potatoes, Peeled and Diced
1
Medium Sized Onion, Peeled and Sliced
1 Green
Chilies, Finely Chopped
1 Tsp.
Ginger, Finely Chopped
Few
Curry Leaves
2 Tbsp.
Mustard Oil
1 Tsp.
Onion Seeds/ Nigella Seeds
1/2
Tsp. Mustard Seeds
Salt to
Taste
1/2
Tsp. Turmeric Powder
1 Tsp.
Coriander Powder
Red
Chili Powder to Taste
1 Tsp.
Lemon Juice, Optional
1 Tsp.
Sugar, Optional
Instructions:
Heat
the mustard oil in heavy bottom pan and add mustard seeds and nigella seeds,
when they start splutter.
Add
curry leaves, green chilies and ginger and stir few seconds on medium heat.
Add
onion and sauté few minutes until to translucent.
Add
spices and give a quick stir to spices till oil separates.
Now add
diced potatoes along with 1/4 cup water, stir to combine and cover with lid.
Cook
the aloo on low heat for 15 minutes till to soft and cooked properly.
Add
sugar and lemon juice on the top to enhance the taste more, its optional.
Serve
kalonji aloo with indian breads.
Tags: How to cook Aloo kalonji,
aloo kalonji ki sabzi, stir fry aloo kalonji, onion seeds recipes, kalonji
recipes, aloo recipes, potato recipes, main course, tiffin recipes, quick and
simple recipes, simply tadka, blogging marathon, onion recipes.

Check out the Blogging Marathon page for the other Blogging Marathoners doing this BM#73
Enter your email address:
Delivered by FeedBurner