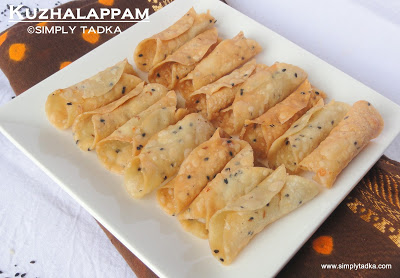 Last Updated on
For the
Indian cooking challenge
hosted by
Srivalli
, has decided to prepare Kuzhalappam from Kerala cuisine for
this June month. It's a fried savory snack which made with rice flour and
black sesame seed. For flavoring, we can add coconut, onion and garlic.
This recipe suggested by
Priya Suresh but I was follow the procedure of
Erivum Puliyum
's blog. You can
say this rice flour cannoli, fried rice flour tubed and Kuzalappam.
Kuzhalappam is really crunchy and tasty fried snack.
It's a new experience for me to try this kind of savory snack and my parents
also love these crunchy bites. Indian cooking challenge is a platform where I get
the chance to try different types of cuisines form all over the India. You can store these snacks for long time in airtight container.
Preparation
Time: 20 Minutes
Cooking
Time: 30 Minutes
Servings:
16-18 Pieces
Category: Snacks


Ingredients:
3/4 Cup Rice Flour
3 Tbsp. Desiccated Coconut Powder
1 Small Sized Onion
1/2 Tsp. Cumin Seeds
1 Tsp. Black Sesame Seeds
Salt to Taste
Oil for deep frying
Pictorial:
Direction:
Grind the onion, cumin seeds, and coconut with little water till to smooth consistency.
Sieve the rice flour. Heat a pan and slightly
roast the rice flour on low flame for 5-6 minutes.
Boil the 1 cup water with salt. Add the
ground mix of onion and coconut in rice flour and sesame seeds. Add water in
flour and knead stiff dough. Cover and keep aside.
Divide the dough into small lemon sized ball
and take plastic wrap and grease the little oil on plastic wrap. Place the ball
in between plastic wrap and roll it using rolling pin.
Cut into round shape using cookie cutter or
bowl (As picture shown). Wrap the cut round disc on finger and close
the both edges ¼" (As picture shown). Place this on tray or plate.
Heat the oil in wok on medium flame. Deep fry
all this kuzhalappams on medium flame till to little brown and crisp. Remove
them on kitchen towel. Cool and store them in airtight jar and serve
with tea or coffee.
Enter your email address:
Delivered by FeedBurner