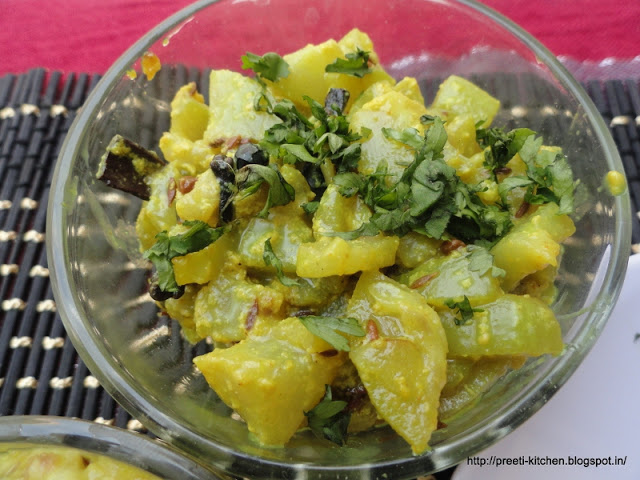 Last Updated on
Today I post one more great and very healthy recipe from Bengali
Cuisines as a main course "Lauki ka Daalna". It's really yummy and easy to make
with very few ingredients which easily available in every Indian kitchen. Under
this recipe, cook lauki or bottle gourd with spices and milk.
Preparation Time: 10
Minutes
Cooking Time: 15
Minutes
Serving: 1 Cup
Recipe Source: Chef Niru Gupta
Ingredients:
1 Cup Bottle Gourd, Diced
1/4 Cup Milk
2 Tsp. Clarifying Butter
1/4 Tsp. Fenugreek seeds
2-3 Cloves
4-5 Black Peppercorns
1/4 Tsp. Cumin seeds
1 Cinnamon (Small sized)
1 Green chili, Chopped
Salt to taste
1/4 Tsp. Sugar
Green coriander, chopped
Pictorial:
Directions:
Heat the ghee in pan and add fenugreek seed, clove, cinnamon, cumin
seed, and black peppercorns, when they start splutter. Add green chili, saute for 2 minutes.
Add clean and chopped bottle gourd and salt. Cook till to soft and
glossy on low flame.
Now add milk and sugar till to liquid dries up and garnish with
green coriander. Serve hot lauki ka daalna as a main dish.
Submit this recipe
with following events: