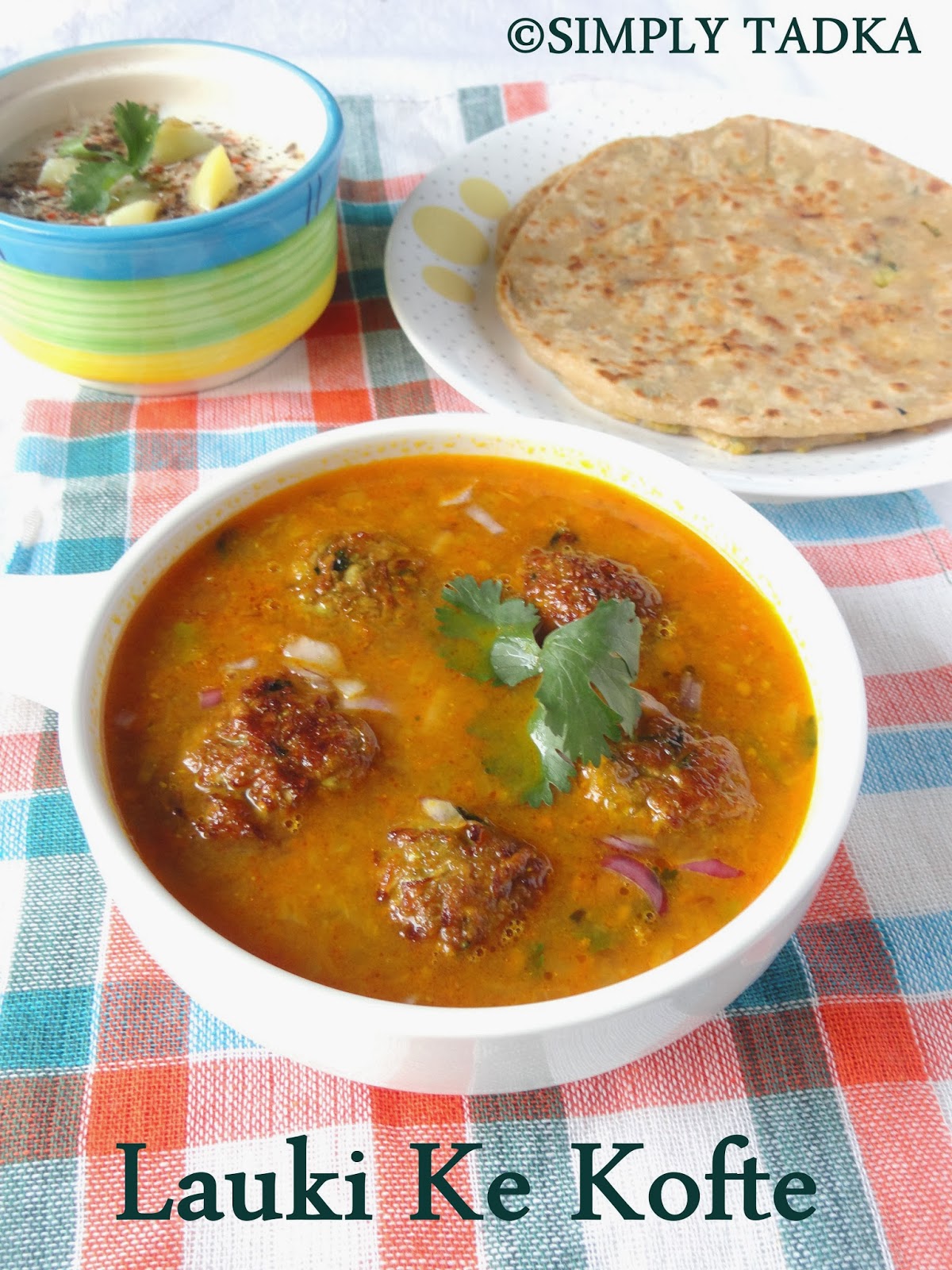 Last Updated on
I love kofta based
curries with flatbread and raita in dinner meals, lauki kofta curry is one of
mine favourite recipe. Lauki kofta curry is very famous Indian recipe which can
be served with rice, raita, chapati or parathas whatever you like and makes
more interesting and delicious. For this recipe, you have to prepare koftas or
dumpling first with grated gourd and then cook in tomatoes and onion based gravy.
It's good
for digestion system and helpful in weight loss. It's contains many vitamins
and minerals such as calcium, magnesium, phosphorus, vitamin A, C and folate.
Preparation
Time: 20 Minutes
Cooking
Time: 25 Minutes
Servings:
4
Category:
Veg Curry
Ingredients:
For
Dumpling/ Kofte
2 Cup Bottle Gourd, grated
4 Tbsp. Gram Flour/ Besan
1 Green Chili, chopped
1/2 Tsp. Ginger, grated
2 Tbsp. Green Coriander Leaves, chopped
Salt to taste
Red Chili Powder to taste
1/2 Tsp. Turmeric Powder
Oil for deep frying
For
Gravy
1 Medium Onion, chopped
2 Medium Tomatoes, pureed
1 Green Chili, chopped
1/2 Tsp. Ginger paste
Salt to Taste
1/2 Tsp. Garam Masala
1 Tsp. Turmeric Powder
1/2 Tsp. Red Chili Powder
2 Tsp. Coriander Powder
1 Tsp. Cumin Seeds
2 Tbsp. Oil
Green Coriander, chopped for garnishing
Instructions:
For
kofte, peel and grate
the lauki and squeeze to remove excess water.
Combine all ingredients together in bowl
except oil and mix it as smooth batter.
Heat the sufficient oil in deep wok on
high flame. When oil is hot enough, deep fry the koftas in small batches on low
flame until to golden.
Drain them on kitchen towel to remove
excess oil and keep aside.
For
gravy, Heat the oil in
non-stick pan, add cumin seeds.
When they start crackle, add green chili,
ginger paste and onion and sauté until to slightly golden brown.
Add tomatoes puree and sauté until to oil
starts leaving corner.
Add turmeric powder, coriander powder,
red chili powder and garam masala. Stir continuously on low flame for 2-3
minutes more.
Add 2 cups of water and bring a boil. Add
salt and cook for 5 minutes on simmer.
Add koftas and garnish with chopped
coriander. Serve hot kofta curry with Indian flatbread.
Notes:
There is no need to add water while
preparing kofta.
You can add 1 tbsp. whipped curd also
while preparing gravy which enhances the taste.
Tags: how to prepare lauki ke kofte recipe, lauki recipes,
bottle gourd recipes, gourd recipes, maincourse recipes, indian veg curry
recipes, lunch or dinner menus, gourd dumpling recipes, how to cook lauki ke
kofte at home, simple kofte recipes, easy and step by step kofta recipe.
Enter your email address:
Delivered by FeedBurner