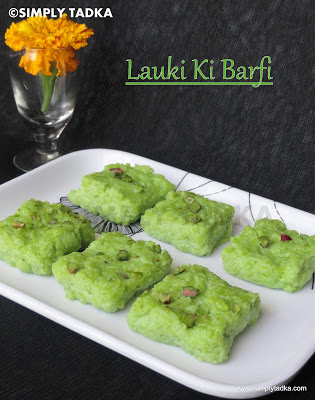 Last Updated on
Today I post
something sweet for festive days or small Indian get together i.e. "Lauki ki
barfi/ Bottle gourd fudge/ Dhudhi ki barfi". It's a really so tasty and healthy
Indian mithai which easy to prepare and easy to store for some days. Under this
recipe, you have to cook grated lauki with milk and khoya and garnish with
cardamom, pistachios or silver warq whatever easily available.
Bottle gourd, opo squash or long melon is a vine grown for its fruit, which can either
be harvested young and used as a vegetable,
or harvested mature, dried, and used as a bottle, utensil, or pipe. For this
reason, the calabash is widely known as the bottle gourd. It has a light green
smooth skin and a white flesh. Rounder varieties are called calabash gourds.
They come in a variety of shapes, they can be huge and rounded, or small and
bottle shaped, or slim and more than a meter long.
In India, it is
known as lauki, dudhi, or ghiya. In North India region, there are
so many savory dishes which prepare by bottle gourd or lauki. In Maharashtra,
the skin of the gourd is used in making a Chutney preparation. It's very healthy in case
of heart disease and high blood pressure. It's consumed in majority of the Indian
families because of availability in reasonable market price. Ayurveda also recommends the juice of
this gourd in the treatment of acidity,
indigestion and ulcers as it serves as
an alkaline mixture.
Preparation Time: 10 Minutes
Cooking Time: 30 Minutes
Serving: 10 Pieces
Ingredients
1 Cup Bottle
Gourd/ Lauki, Grated
2 Cup Milk
1/2 Cup
Condense Milk/ Khoya
1/3 Cup
Sugar
1 Tsp.
Cardamom Powder
1/4 Tsp.
Green Color
For Garnishing
Pistachio, Chopped
Pictorial
Direction
Peel and
grate the lauki. Boil the milk in pan on medium flame; add grated lauki in
boiling milk. Stir continuously till milk reduces to half from the original
quantity.
Now add grated
khoya, cardamom powder and green color. Stir continuously. Add sugar as per
your taste buds and mix well. When froth start leaving vessel's corner.
Remove from
the flame and pour into pre-greased tray or plate. Keep aside to cool for one
hour and cut into square pieces and garnish with chopped pistachios. Now lauki
barfi is ready to serve in festive season.
Soul Food Show event and giveaway hosted by Vijaylakshmi
Enter your email address:
Delivered by FeedBurner