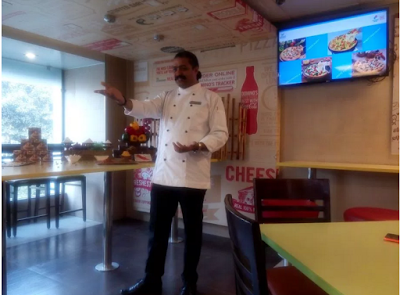 Last Updated on
Domino's
Pizza, India's Pizza Delivery Expert and market leader in the organized pizza
market is back with its latest product offering for the season. Domino's Pizza
has launched 2 new products – Double
Cheese Crunch pizza and Custard
Bliss dessert.
Both the
products have been created by Chef
Narendra Singh Jaravta, Head Chef at Domino's Pizza, and his team.
Thick crust with full on cheese, double burst… this time
as a blogger, I got a chance to taste newly launched double cheese crunch pizza
which is two thin crust pizzas sandwiched together full of cheese… awesome in
taste. Another option available in dessert, they have launched a lovely potli
style custard bliss which is soft dough filled tasty vanilla custard full of
cardamom aroma. It's pure vegetarian without eggs.
Double Cheese Crunch
The
unique Double Cheese Crunch pizza is the latest addition in the list of
indulgent pizzas offered by Domino's Pizza. It is an exclusive offering by
Domino's Pizza and comes with two thin crusts having liquid creamy cheese
in-between, topped with mozzarella cheese and fresh vegetarian or
non-vegetarian toppings.
Chef's Description: Liquid cheese sandwich with two thin crusts,
topped with Mozzarella cheese
Custard Bliss
Custard
Bliss dessert has been developed considering Indian consumers' love for custard
flavor. It is the latest addition to the dessert menu after the much loved
Choco Lava Cake. This amazingly delicious dessert is made from soft buttery
flavored dough rolled over tasty Vanilla Custard, milk, cream, sprinkled with
finely powdered cardamom sugar which adds a unique delightful flavor.
Chef's Description: Vanilla custard surprise in freshly baked dough
pouch
The
latest launches have been developed with the aim of providing a wider menu to
the consumers making their experience more enjoyable and exciting.
Trivia about Domino's Pizza India
•
India is the Biggest Market for
Domino's Pizza outside the U.S.
•
There are 959 Domino's Pizza
restaurants in India spread across 218 cities
•
Domino's Pizza has 72% market share
in the chained pizza market in India
•
300,000+ pizzas are made and sold
everyday
•
20,000+ online orders every day
•
55 million total orders each year
Enter your email address:
Delivered by FeedBurner