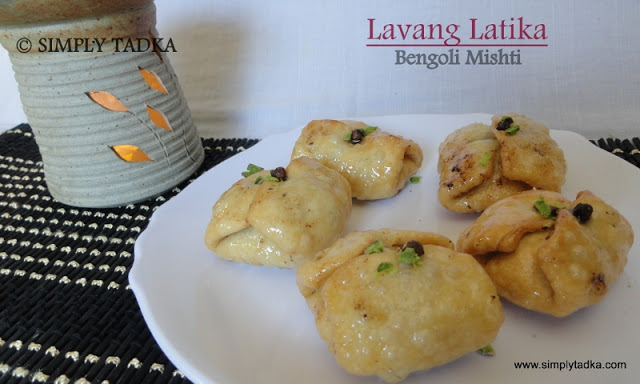 Last Updated on
This time I prepared very popular one more
Bengali
mithai… i.e.
LAVANG LATIKA.
Lavang latika gets its name from lavang means long or clove. It's
not that hard to make. Under this
recipe, stuffed puri with khoya and chopped nuts mixture then soak into sugar
syrup. This mithai or sweet is made by Bengali's on very special occasion of
Durga Pooja.
We just love the taste of this misthi… it's not hard in taste and
mawa become so soft after frying and soaking… You can increase or decrease
the sugar quantity as per your sweet tooth.
Preparation time: 15 Minutes
Cooking time: 20-25 Minutes
Serving: 8 pieces
Ingredients:
For Crust
2/3 Cup Refined flour/ Maida
2 Tbsp. Clarifying Butter/ Desi Ghee
8 Cloves
For Stuffing
3 Tbsp. Khoya/ Condense milk
2 Tbsp. Chopped Cashews
2 Tbsp. Chopped Almonds
2 Tbsp. Chopped pistachios
1/4 Tsp. Cardamom Powder
3 Tbsp. Sugar (Powdered)
Few strands Saffron/ Kesar
For Syrup
1 Cup Sugar
1/2 Cup Water
Pictoral
Mix flour and ghee with fingertips
Knead stiff dough with water
Combine stuffing Ingredients
Stuffing
Roll out the dough into small puri form
Place the Filling into rolling dough
Fold the edges
deep fry till to golden and crisp
Soak into syrup
For Stuffing
Combine grated mawa/ khoya, chopped nuts, powered sugar, cardamom
powder and saffron. Mix well. Divide the mixture into equal portions.
For Sugar Syrup
Heat the pan and cook sugar and water together till to one string
syrup. Remove from the fire and keep warm.
For Crust
Sieve flour and mix ghee with fingertips. Add enough water for
making stiff dough for cover. Keep aside for 20 minutes and cover with wet
muslin cloth. Divide the dough into equal eight parts. Roll the each potion
into round chapati form.
For Lavang Latika
Heat the sufficient ghee into wok on medium flame. Place the each
portion of filling into each puri and fold all edges into square envelop form
and lock with clove. Do same with rest.
Deep fry into hot ghee till to golden and crisp and soak into sugar
syrup for few minutes. Drain and serve
warm. Garnish with chopped pistachios on the top.
Submit this recipe with the
following events:
Enter your email address:
Delivered by FeedBurner