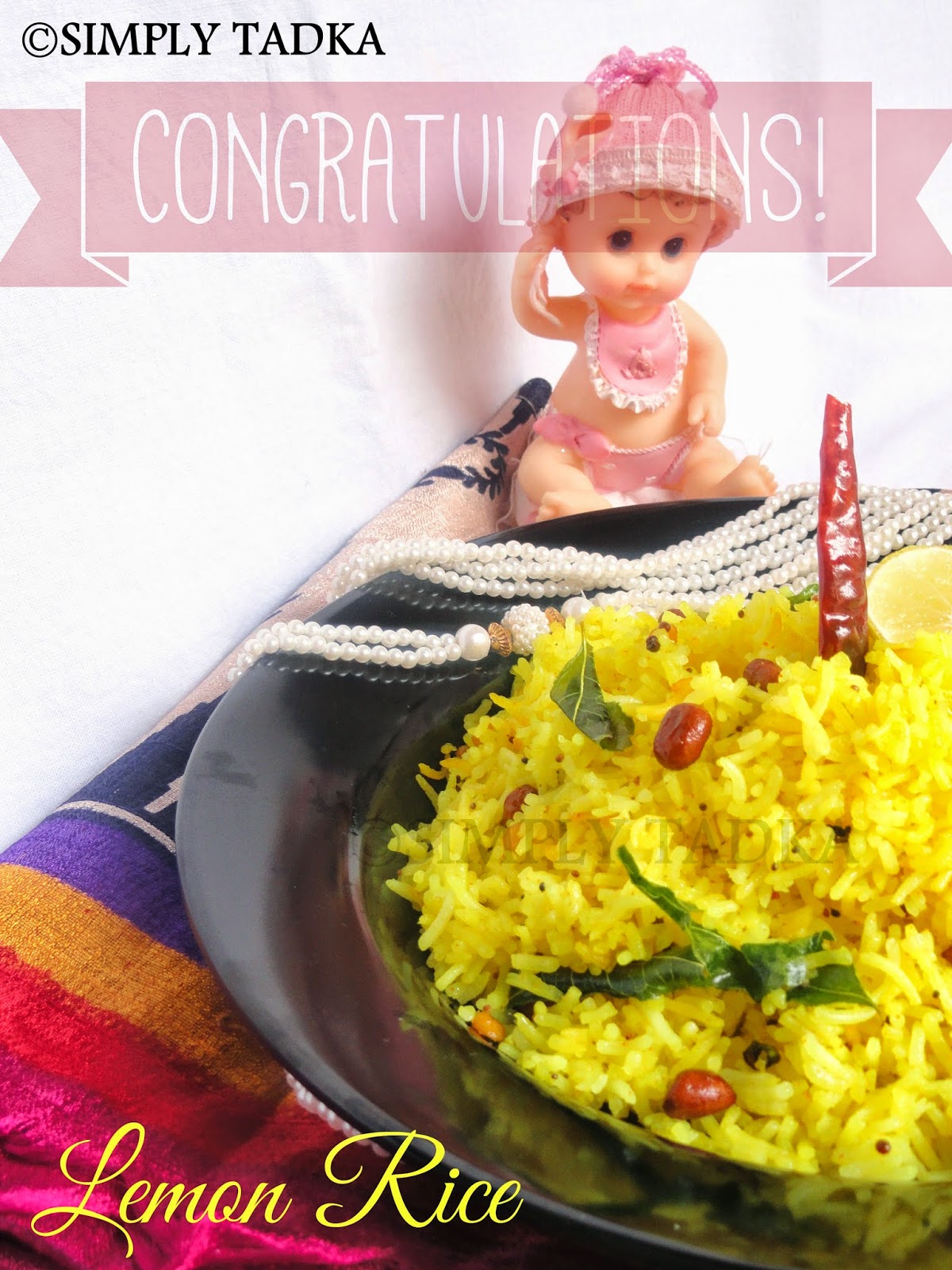 Last Updated on
Lemon Rice is a very common recipe in Andhra
Pradesh, Karnataka, Tamilnadu made with lemon flavored and vibrant yellow color.
It's known as pulihora also, puli means sour taste and pulihora is also referred
to as sour rice. This tangy rice is perfect meal for lunch time or tiffin meal.
In this recipe you have to prepare tempering in sesame oil and then toss with
cooked rice and lemon juice. You can serve this tangy flavor lemon rice with
papad and fresh curd. Tempering of peanuts and pulses gives crunchy taste to
rice.
Baby shower or you can say godh bharai is very
special moment for all expecting mothers. In this special occasion, whole
family and friends celebrates the day with gifts and blessing to welcome the
coming baby and mother. One of our Blogging Marathon members, Sapana from "Cooking
with Sapana" blog is having a baby very soon and we decided to celebrate
virtual baby shower for her. We cooked one dish from her blog and wish her the
very best for healthy baby and healthy mother.
Preparation Time:
10 Minutes
Cooking
Time: 15 Minutes
Servings: 4
Category:
Rice
Ingredients:
2 Cup Cooked Rice
3 Tbsp. Peanuts, roasted
2 Green Chilies, finely chopped
2 Tbsp. Oil
3 Tbsp. Lemon Juice
Salt to Taste
1/2 Tsp. Turmeric Powder
For
Tempering
1 Tsp. Mustard Seeds
1 Tsp. Urad Dal
1 Tbsp. Chana Dal
Pinch of Asafoetida
8-10 Curry Leaves
2-3 Whole Dry Red Chili, de-seed
Instructions:
Heat the oil in a deep vessel. When oil is
hot enough, add tempering ingredients.
When mustard seed starts sizzle, add chopped
green chilies and roasted peanuts and stir for two minutes.
Add turmeric powder and cooked rice and mix
well. Turn off the heat.
Combine the lemon juice with salt and mix in
cooked rice. Serve this lemon rice with fresh curd.
Notes: Adjust the lemon juice according to
tastebuds, if you like more tangy flavor.
Tags
:
how to prepare lemon rice, lemon rice recipe, rice recipe, chawal recipe, lemon
rice, Andhra Pradesh recipe, basmati rice recipe, main course recipe, lunch
meals, tiffin meals, healthy meals, pulihora recipe, Andhra cuisine, indian
rice recipe, peanuts, south style rice.
Enter your email address:
Delivered by FeedBurner