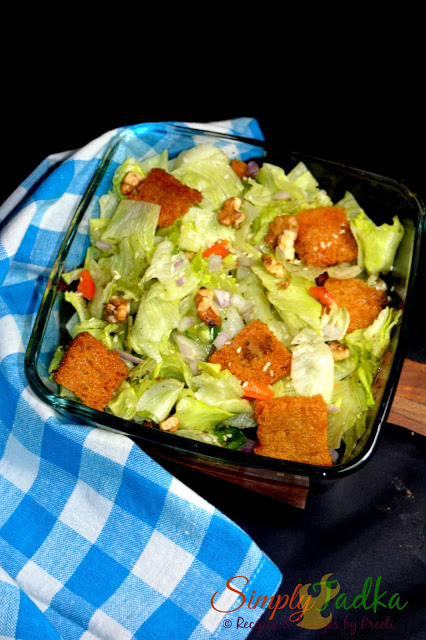 Last Updated on
This time I made
very simple and healthy salad recipe i.e. Lettuce Salad with Croutons which
everyone like it. It's good for health and especially in summer days to digest.

To prepare
this recipe, we need to combine lettuce; some raw vegetables like cucumber, onion,
capsicum, tomato tossed in vinegar or lemon juice whatever you prefer.
For little crunchy
bite, love to add roasted walnuts or almonds every time in my salad bowl. This time
I add some toasted bread pieces also in this salad bowl.
Lettuce Salad with Croutons | Salad Recipes

Preparation Time: 10 Minutes
Cooking
Time: 5 Minutes
Servings:
4
Category:
Salad
Cuisine: Healthy

Cooking Method: No Cooking

Ingredients
3 Cups Iceberg Lettuce
1 Medium Sized Onion Diced
1 Medium Sized Ripe Tomato Diced
1 Medium Sized Cucumber, Diced
1/2 Cup Fried Croutons
1/4 Cup Coriander Leaves , Chopped, Optional
2 Tbsp. Roasted Walnut, Chopped
1 Tsp. Sesame Seeds, Optional
1 Tbsp. Lemon Juice
Chaat Masala to Taste
Salt to Taste
Pepper to Taste
Instructions
Cut the lettuce into 2 inch cubes and keep in cold water for 15 minutes.
Drain well and place in non-reactive
bowl.
Now add chopped onion, cucumber,
tomato, lemon and spices and toss well.
Add croutons, walnuts and serve
immediately.
Notes:
Cut the French bread or normal bread into small pieces and fried them in oil.
If you are health conscious then
roast them in air fryer.
Tags how to make lettuce salad,
salad, summer, healthy meals, quick salad, salad with croutons, simplytadka,
side dish, iceberg, easy salad, easy and simple recipes, vegan, vegetarian, diabetic.
Enter your email address:
Delivered by FeedBurner