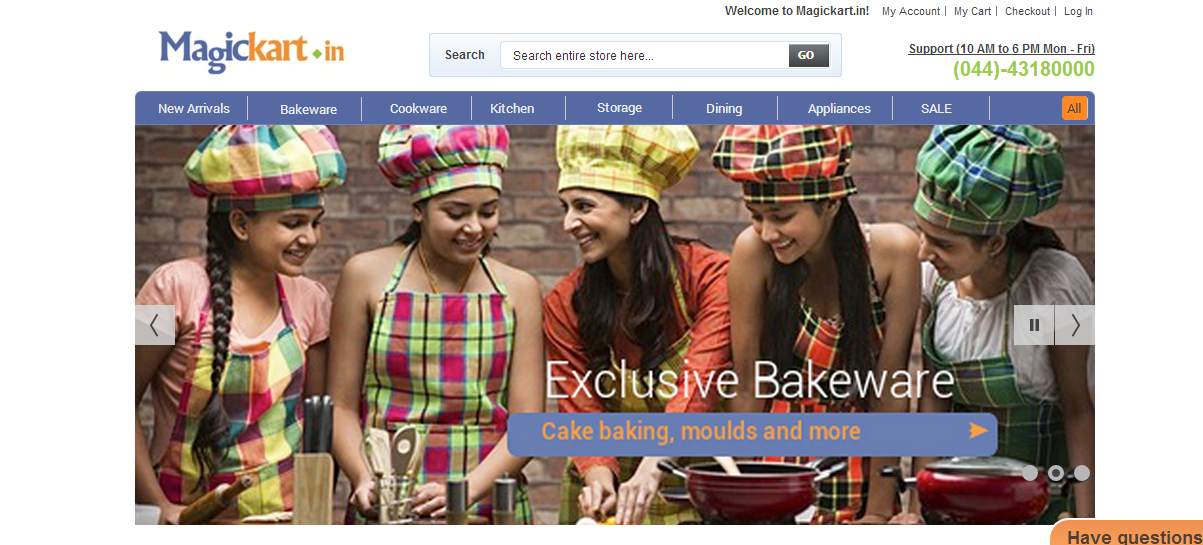 Last Updated on
In 20th
century, E-commerce has become a way of life. Now you can buy kitchenware products, cookware, bakware and other cooking products directly online at Magickart.in.
Magickart.in
is one of the largest E-commerce Companies in India.
Magickart.in
is the leading online shopping portal in India with an exclusive
range of cookware, bakeware,
serveware and kitchen appliances, through which make cooking more interesting
and enjoyable. This stylish tableware range is surly give fresh and impressive
look to your dining table and food. All this products are available on
affordable prices. They have Primary objective is to get more customer
satisfaction with high quality products.
The portal shows exclusive and impressive collection of Indian and
global kitchenware brand included Butterfly, Prestige, Morphy Richards,
Preethi, Wonderchef, Philips, Praylady, Zain, Tupperware & Signoraware and
more.
Now one question will be raise in your mind
that is why we choose Magickart.in out of others?
There is lots of reason behind choosing
Magickart.in
but the main fact
is providing 100% customer satisfaction with high quality products on
affordable prices. Some other reasons are free shipping services, wide range of
branded kitchenware and kitchen appliances. They provide better customer
relationship system through which you can get instant solution of customer
queries.
Some Bakeware products specially for chocolate lovers
Some Kitchen Appliances….
Magickart.in
is continuously focused on customer satisfaction and providing lots of
discounts and promotional schemes, when a new customer signup on portal, will automatically
get free shopping voucher worth INR 1000. Here you will get lots of option to choose
kitchenware range for kitchen and cooking purpose. These products are not
limited for cooking only but you can shop for gift purpose also for your love
ones on their special occasion as festivals or anniversary gifts.
Magickart.in
is more secure portal for online shopping where you can use your banking
details or credit cards details with the help of secure Code with extra level
of authentication. There is many ways of payment like debit cards, credit
cards, net banking and cash on delivery with free shipping services.  You can join
Magickart.in
on
Facebook, Pinterest
and
Google plus
.
List of
some best products which I like most and want to shop from
Magickart.in
:
Wonderchef Saturnia Frying Pan Worth Rs.  2189
Muffin Mould Tray
List of some products which you can choose for personal as well as gift purpose also:
Customer Service: (044) 4318 0000     (Standard STD/Local charges apply)
Working Hours: 10:00 am – 6:00 pm
(Monday-Saturday)
Thanks to Magickart.in for giving me chance for sharing my opinion regarding this lovely and magical kitchenware portal with really magical prices. Now viewers please tell us which is  your favorite product or kitchenware from Magickart.in..
Visit Magickart.in and leave a comment.
Enter your email address:
Delivered by FeedBurner