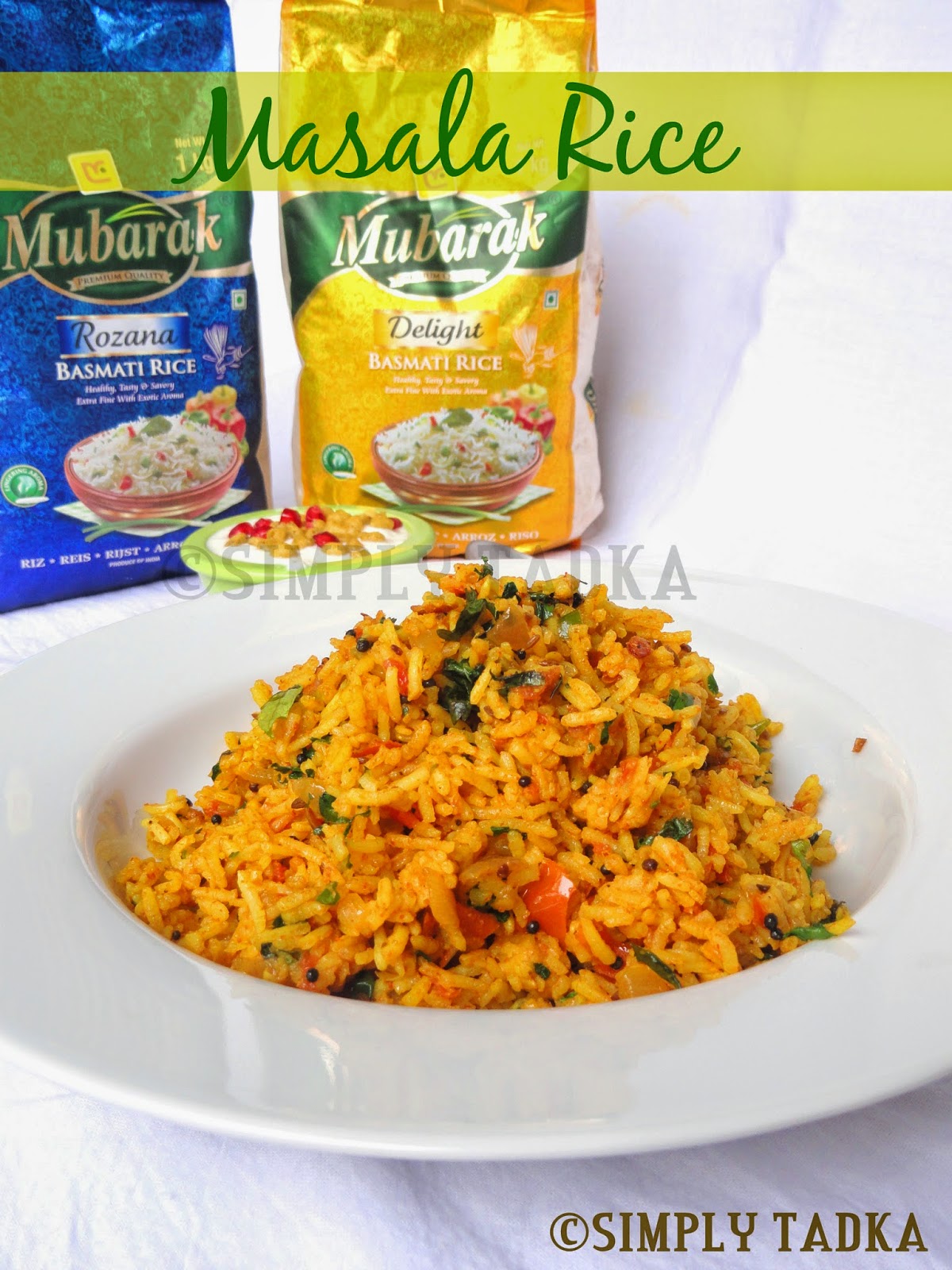 Last Updated on
Masala Rice or Masala Bhaat is very staple
and simple recipe which even made with leftover rice also. For this recipe we
have to cook the rice with tomatoes and onions in pan with spices. Masala rice
is quick and simple recipe which fill the gap of lunch or dinner and served
with curd and pickle.
This time I used Mubarak Basmati Rice is aged
for a minimum 1.5 years which brings out the real characteristics of its
grains. Every
Mubarak Basmati Rice grain having an average length of about 7.00 mm, these
grains, on cooking bring out a distinct aroma. They also become fluffy, thin,
long and non-sticky.
Preparation Time: 10 Minutes
Cooking Time: 15 Minutes
Servings: 4
Category: Rice
Ingredients:
3 Cup Leftover Rice or Boiled Rice
2 Medium Sized Onion, Chopped
2 Medium Sized Tomatoes, Chopped
2 Green chilies, Finely Chopped
1 Tsp. Ginger Paste
1/2 Tsp. Mustard Seeds
1/2 Tsp. Cumin Seeds
10 Curry Leaves
2 Tbsp. Oil
Pinch of Asafoetida
Salt to Taste
Red Chili Powder to Taste
1 Tbsp. Coriander Powder
1 Tsp. Turmeric pOwder
1/2 Tsp. Garam Masala
2 Tbsp. Lemon Juice
Coriander Leaves, For Garnishing
Instructions:
Heat the in oil wok, add the mustard seeds, cumin seeds and curry leaves till they splutter.
Add the asafoetida,green chilies, and ginger and saute for few seconds.
Add onions and saute till the onions get softened and become transparent.
Add the tomatoes and saute till the tomatoes become soft
Add all the spice powders with salt and saute for 2 minutes.
Add the cooked rice and stir well so that the masala coats the rice.
Add lemon juice and cook for 5 minutes on low flame.
Remove from the flame and garnish with fresh coriander leaves.
Serve hot masala rice with raita and mango pickle.
Tags: How to cook masala rice, tomato onion rice, fried rice, rice recipe, tiffin box recipe, lunchbox recipe, simple rice recipe, breakfast recipe, simplytadka, masala recipe, masala rice recipe, spicy rice recipe, masala bhaat, masala baath, leftover rice recipe.
Enter your email address:
Delivered by FeedBurner