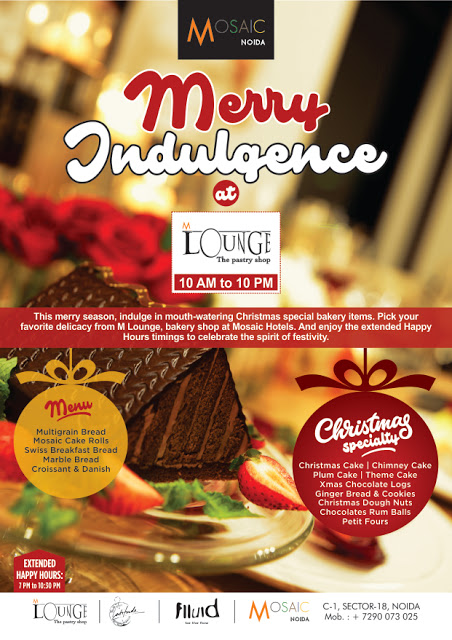 Last Updated on
Christmas is round the corner. To celebrate the festivity, M lounge is ready
with finger licking sweets and savories.
The moment you enter in reception, aroma of fresh bakery fascinates you.
Executive Chef V Bharathan has crafted delectable delicacies for this occasion
specially.
Pick your favorite Christmas cake to Plum
cake to Theme cake to Ginger Breads & Cookies to Christmas Doughnuts to
Chocolate Rum Ball to many more sinful bakeries. Special creation for this winter
in Chimney cake which has a twinkling light inside and fill with chocolates
& cookies. On one hand it looks appealing and on the other hand, it is full
of flavors. Chimney cake body is made of croissant dough, filled with White n
dark chocolates & cookies inside. It costs Rs. 275 to Rs. 475 according to
various shapes and flavors.
If you look for more indulgence in savories,
a wide range of multigrain breads are waiting for you. Chef has designed Cheeta
Bread that has tiger print on it, is the most demanding items of this season.
Kids have more attraction towards it. This innovative creation is a mixture of
White & Brown breads ingredients cost Rs. 150.
Just to increase the fun of Christmas, Mosaic
Hotels has extended the Happy Hours timings. Now you can get cakes in 50%
discount from 7 pm to 10:30 pm. M Lounge is all set to welcome you and double
the fun of your celebration mood.
Here are some awesome and mouthwatering cakes and breads:
Pine Doughnuts
Chimney Cake with Cookies
Here is Price Lists
Name List towards M
Lounge

Items

Grams

Rate

Fruit Rum Cake ½ kg

450

475

Fruit Rum Cake 1 kg

950

925

Chocolate Logs

600

850

chocolate X mas
leaf cake

600

850

Fruit Rum Cake

500

800

Ginger Bread with Rum
Cake

500

800

Chocolate Dough Nut

55

70

Pine Dough nut

55

80

Turkey Dough Nut

55

80

Christmas Dough Nut

55

80

Mosaic Cake Roll

750

225

Chimney cake with
cookies

300

275

chimney cake with
chocolates

300

475

chimney Cake ( Chocó
Cookies )

150+150

375

Oven Fresh B read

Multi Grain Bread

500

150

Swiss Break fast Bread

500

125

Leopard Bread

500

150

Marble Bread

500

125

Croissant & Danish

50

70

Multi grain Baguettes

200 gm

80

praline chocolate ( 2 No's)

4.8

4.8

Chocolates Praline

1

900

Ginger Cookies plain

1

170

Ginger Cookies Royal icing

1

225

Linger cookies

1

499
ABOUT MOSAIC
HOTELS
Mosaic Hotels, hospitality venture of Shipra
Group, serves business and leisure needs of travelers. Mosaic Hotels, Noida is
located in main commercial hub of sector 18. Flluid restaurant offers a
luscious range of modern cuisine, ambience and privacy. It boasts of an urban
design lounge bar. The Exclusive Private Area is equipped with a fully movable
set up that can be fine-tuned as ones mood proposes. Flluid is open from 11
a.m. in the morning till 11.00 p.m. night. The Pastry Shop planted near the
lobby ensures that every delicacy served should be fresh, divine and
delectable. It is open from 10 am to 10 pm.
Latitude is the specialty restaurant of
multi-cuisine. The plush ambiance with modern elegant designs strongly inspired
by ethnic Indian sensation evokes a far-fetched aesthetic rapture in different
ways.
Mosaic Mussoorie is located at Picture Palace
End of Mussoorie. It has Indoor restaurant Random and terrace restaurant
Charcoal. Well equipped with amenities like temperature controlled swimming
pool, spa, gym, kids room, banquets, business centre etc.
Enter your email address:
Delivered by FeedBurner