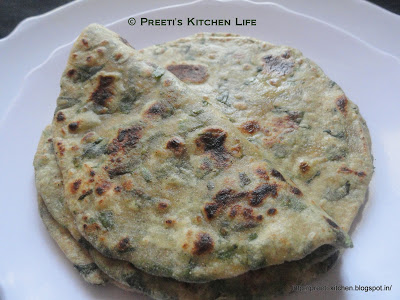 Last Updated on
Fenugreek is a very good source of vitamins and proteins. In winter season,
we easily get bunch of fresh and seasonal fenugreek leaves in market. Through this we
can made so many recipes like parathas, puri, curries and
so more. But this time, I prepare paratha with fenugreek leaves. You can use
this chopped leaves in two ways for making paratha's. One is chopped the leaves
and combine with dough and second, make fine puree with leaves and make dough
with flour instead of water.
Fenugreek is an herb that is commonly found growing in the Mediterranean
region of the world. While the seeds and leaves are primarily used as a
culinary spice, it is also used to treat a variety of health problems in Egypt,
Greece, Italy, and South Asia.
Fenugreek seeds have been found to contain protein, vitamin C, niacin,
potassium, and diosgenin (which are a compound that has properties similar to
estrogen).
Preparation Time:
Less than 15 Minutes
Cooking Time: 5
Minutes for each
Serving: 3-4 Pieces
Ingredients
1 1/2 Cup wheat flour
1/2 Cup fenugreek leaves, chopped
Salt to taste
Red Chili Powder to taste
Clarifying butter for frying
Direction
Wash and clean the fenugreek leaves and now chopped it. Combine fenugreek
leaves, salt, chili powder and wheat flour together in one bowl.
Add enough water for soft dough for paratha. Divide the dough into
equal portions. Flatten and roll out again by using rolling pin and spread little flour
as a dust if need.
Heat the tawa on medium fire and place paratha on tha tawa. Cook little
and turn it on other side, grease with ghee or butter whatever you like.
Now turn again, grease ghee again on other side also. Cook well till
color become golden and look like little crispy. Serve hot parantha with
chutney and curd.