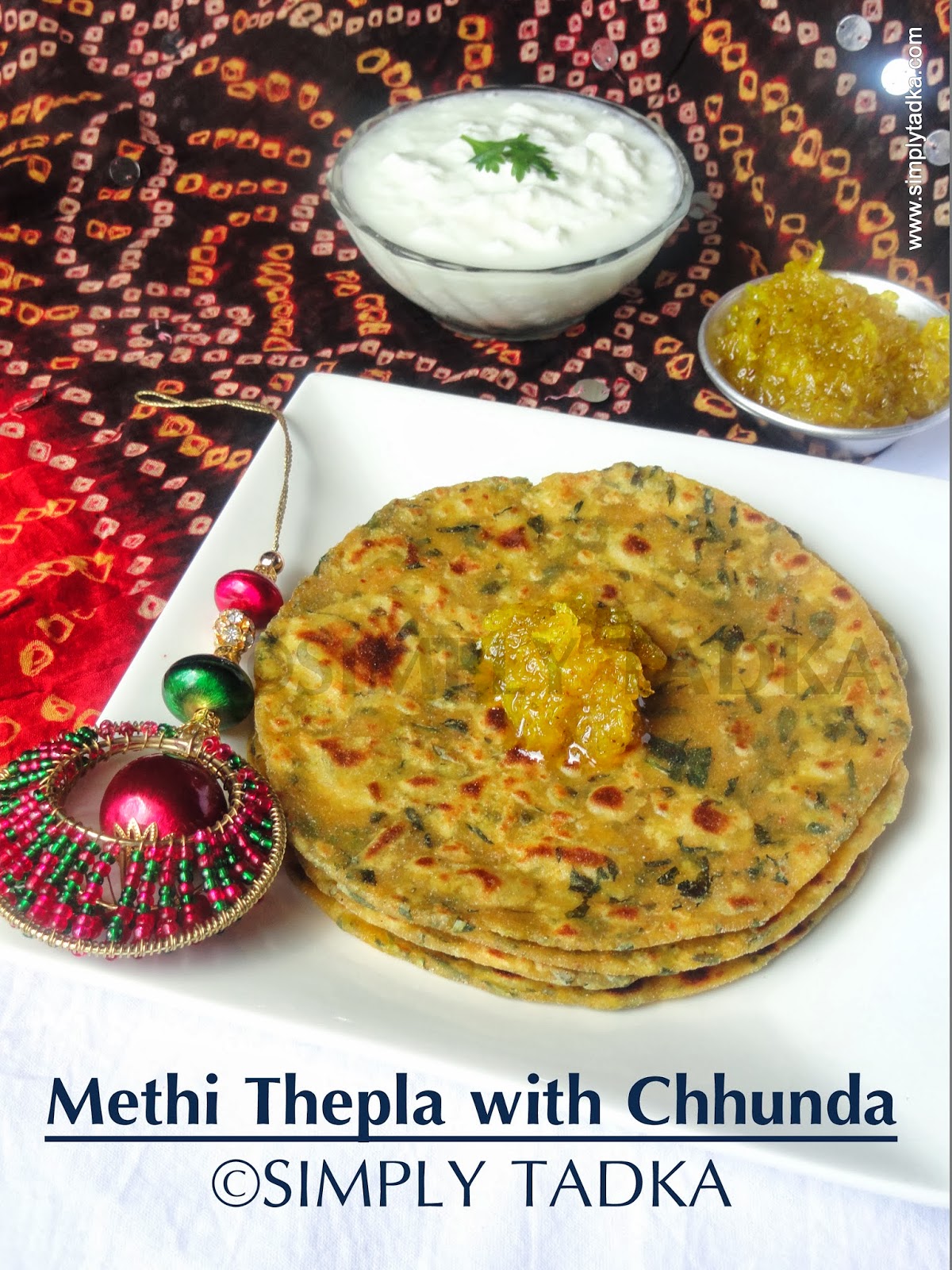 Last Updated on
Today I shared "Methi Thepla with Chhunda",
and adopt this combo from Gujarati region. It's a really good option for
breakfast or tiffin or travelling meal. Theplas mostly served with curd and
chhunda. For methi theplas, you have to prepare smooth dough with flour and
fenugreek and cook soft and thin shallow fried flatbread. You can change the fenugreek
with other like carrot and gourd for more variation. Yogurt makes dough soft
and healthy and very delicious too.
This time I prepare instant chhunda for this
combo, generally chhunda takes more than week to cook under sunlight. But I
prefer to choose stove version. Here is recipe:
Preparation
Time: 60 Minutes
Cooking
Time:  40 Minutes
Servings:
4
Category:
Gujarati Cuisine
Ingredients:
For
Methi Thepla
1 Cup Fenugreek Leaves, chopped
2 Cup Wheat Flour
1/2 Cup Gram Flour
1/4 Cup Green Coriander, chopped
1/3 Cup Curd/ yogurt
Salt to taste
Red Chili Powder to taste
1/2 Tsp. Turmeric Powder
1 Tbsp. Oil
Oil / Ghee for shallow frying
For
Chhunda
250gm Unripe Mangoes
1/2 Tbsp. Salt
250gm Sugar
1/2 Tsp. Turmeric Powder
1/4 Tbsp. Red Chili Powder
1/4 Tbsp. Black Pepper Powder
1/2 Tbsp. Roasted Cumin Powder
Instructions:
Sieve the both flour and combine with
chopped coriander, fenugreek leaves, oil, salt, turmeric powder and red chili
powder.
Add enough yogurt for knead semi soft
dough for theplas. Divide the dough into equal 12 portions and roll out each
portion into thin round form.
Heat the tawa and cook the theplas with
little ghee/oil from the both sides until to golden and evenly cooked.
Serve methi theplas with chhunda and
curd.
Wash and peel the unripe mangoes and
grate them.
Place the grated mangoes in a steel bowl
and add salt. Keep aside for max 2 hours.
Now add turmeric powder and Sugar and mix
well. Keep aside for 10 Minutes.
Heat the mixture on medium flame in
non-stick pan until to sugar dissolves.
Sugar consistency should be one thread
consistency. Set aside to cool completely.
Add cumin powder, red chili and black
pepper powder, mix well. Serve with theplas.
Notes:
You can add carrot, lauki and any other
grated vegetables in theplas for more variations.
These theplas can be store for maximum
2-3 days because we used curd for dough instead of water.
Adjust the sugar and salt quantity in
chhunda according to taste.
Enter your email address:
Delivered by FeedBurner