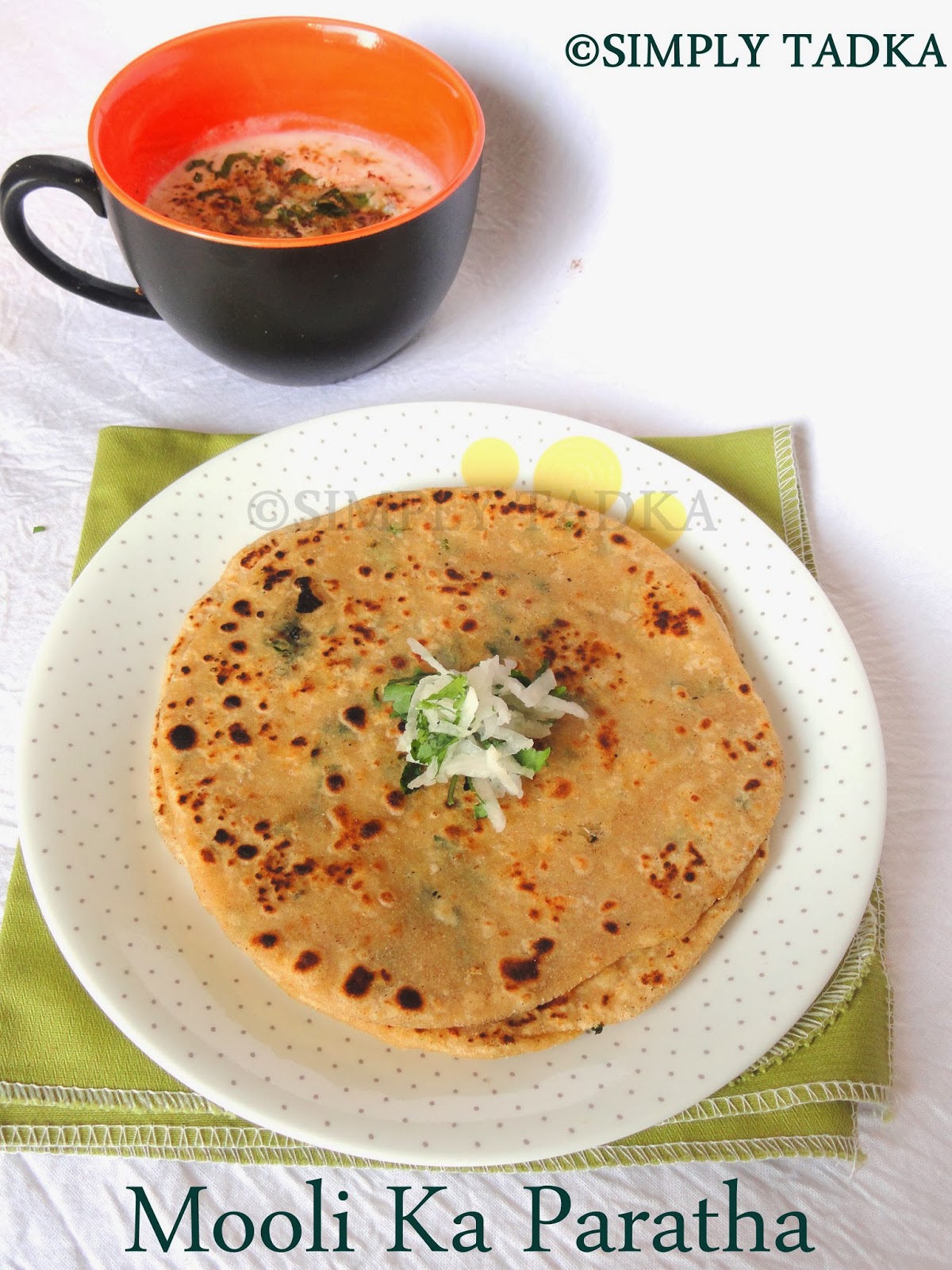 Last Updated on
In Winter Season, Parathas are good option to
serve as breakfast meal and even you can get seasonal radish also which are
little sweet in this season. Mooli ka paratha is very popular paratha especially
in Punjab cuisine which made with grated and squeezed radish and stuffed in
flatbread. You can serve mooli paratha with fresh homemade butter, fresh yogurt
and mango or chili pickle.
For making this paratha more tastier, you can
add chopped green chili, onions, coriander and chaat masala in stuffing which enhance
the taste of parathas. Mooli or radish is rich in zinc, vitamin c, folic acid
and phosphorus. It's good for cancer disease, skin and kidney disorder and
weight loss and more.
Preparation
Time: 15 Minutes
Cooking
Time: 15 Minutes
Servings:
4
Category:
Indian Flatbread
Ingredients:
For
Dough
2 Cup Wheat Flour
1/2 Tsp. Salt
Enough Water for dough
For
Mooli Stuffing
2 Radishes, grated
2 Green Chilies, chopped
2 Tbsp. Green Coriander Leaves, chopped
Salt to taste
Red Chili to taste
1 Tsp. Coriander Powder
Chaat Masala to taste
Other
Oil for shallow frying
Extra Flour for dusting
Instructions:
Knead the firm dough with flour, salt and
water.
Squeeze the grated mooli or radish to remove excess water.
Combine with spices, chilies and coriander in separate bowl and keep aside.
Divide the dough into equal portions and
roll out the each portion into round as chapati.
Place the 2 Tbsp. stuffing and close the
edges. Flatten and roll out again in round form.
Heat the griddle or tawa on medium flame
and place the paratha on tawa.
Cook the paratha on tawa both sides using
oil until to golden and crisp.
Serve hot paratha with curd and pickle.
Notes: You can add chopped onion also for
tastier parathas.
Tags: how to cook mooli parathas or muli parathas, indian
flatbread, radish flatbread, radish recipes, easy and tasty breakfast
recipe, easy lunchbox recipe, stuffed recipes, stuffed mooli paratha recipe,
learn how to prepare mooli or muli paratha at home, easy lunch or dinner menus,
step by step paratha recipe, main course bread recipes, indian bread recipes.
Enter your email address:
Delivered by FeedBurner