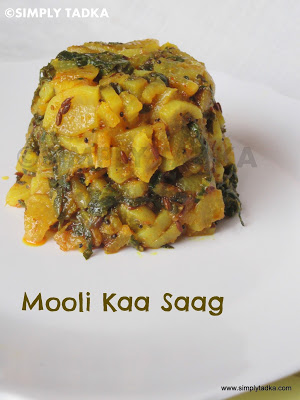 Last Updated on
In
winter, we can easily get fresh and seasonal radish… sweet and soft in taste.
So we can prepare so many recipes with seasonal radish i.e. mooli ka paratha,
mooli ka saag, achaar and more. This time I choose "Mooli Ka Saag" for blogging
marathon under seasonal food theme.
Under
this recipe, we used radish with leaves… in season we get little soft leaves
which easily used in curry and vegetables. First chop the radish and leaves, boil
leaves and keep aside with salt for sometimes to removing bitterness from the
leaves. Cook with spices till to tender and soft and serve with Indian bread.
Radish leaves are sometimes used in recipes, like
potato soup or as a sauteed side dish. They are also found to benefit homemade
juices; some recipes even calling for them in fruit based mixtures. Radishes
are rich in ascorbic acid, folic acid, and potassium. They are a
good source of vitamin B6, riboflavin, magnesium, copper,
and calcium.
One cup of sliced red radish bulbs provides approx.
20 cal,
largely from carbohydrates.
Preparation Time:
20 Minutes
Cooking
Time: 15 Minutes
Serving: 2-3
Ingredients
2 Large Radishes with leaves/ Mooli Patto
wali
1/2 Tsp. Cumin Seeds
Pinch of Asafoetida
1/2 Tsp. Mustard seeds
1 Tsp. Coriander Powder
Salt to Taste
1/2 Tsp. Turmeric Powder
1/2 Tsp. Garam Masala
1/2 Tsp. Red Chili Powder
1/2 Tsp. Raw Mango Powder
1/2 Tsp. Lemon Juice
1/2 Tsp. Sugar
1 Tbsp. Oil/ Ghee
Pictorial
Chop leaves
boil leaves with water and salt
keep mooli and boiled leaves in another bowl
Add salt and leave for 15-20 minutes
add ghee, mustard, cumin and hing
Cook till to tender
Direction
Peel and chop the radishes into small pieces.
Wash and chop the radish leaves too. Boil the leaves in water with little salt
for 5-6 minutes. Drain the water from the strainer. Combine boil and chopped
leaves and chopped radishes into bowl. Add
salt and mix well. Keep aside for 15-20 more minutes.
Heat the oil in pan. Add mustard seeds,
cumin, asafoetida, when they start splutter. Add turmeric powder and mooli with
leaves and water. Add red chili, coriander powder and raw mango powder and mix well.
Cover and cook for 5 minutes till to tender and soft. Add garam masala, sugar
and lemon juice. Mix well. Now mooli ka
saag is ready to serve.
Note: Don't waste salty water which comes from mooli and leaves. use during cooking process. Adjust the spices according to taste.
Enter your email address:
Delivered by FeedBurner