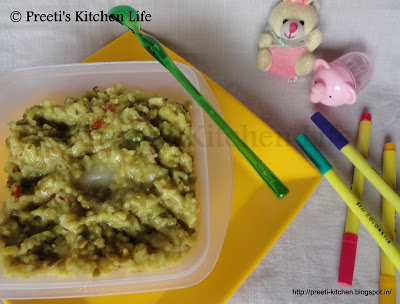 Last Updated on
Today I post very healthy and nutritive "Moong Dal Khichdi" which
is easy to prepare anytime with couple of few ingredients. This khichdi is very
good option for toddlers… it's a complete meal with rice, lentil and veggies…. You
can prepare little liquid consistency which good for kids to digest.
For adults… with little fusion, you can prepare this khichdi with
onion and tomato tempering and serve with curd.

Preparation time: 15
Minutes
Cooking time: 15
minutes
Servings: 3 people
Ingredients
1/2 Cup Rice
1/4 Cup Split Green gram
1/2 Cup Carrot and peas, peeled and chopped
2 Tbsp. Green coriander leaves, chopped
Salt to taste
1 Tsp. Cumin seeds
A pinch of Asafoetida Powder
1/2 Tsp. Turmeric powder
2 Tbsp. Clarifying Butter
Pictorial
Directions
Wash and soak the rice and lentil in one bowl with 2 cups of water
for 15-20 minutes.
Now microwave or boil the peas and carrots together till to half
boiled.
Heat the pressure cooker with clarifying butter on high flame.
Add cumin seeds and asafoetida when cumin start splutters.
Add boiled carrot, peas, rice and lentil with more than 5 Cups of
water.
Add salt, turmeric power and green coriander.
Cover with lid and cook till to 5-6 whistles.
Now serve hot nutritious khichdi in bowl with some clarifying
butter/ ghee on the top of khichdi.
Submit this recipe
with following events:
Blogging Marathon page for the other Blogging Marathoners doing BM#24

Enter your email address:
Delivered by FeedBurner