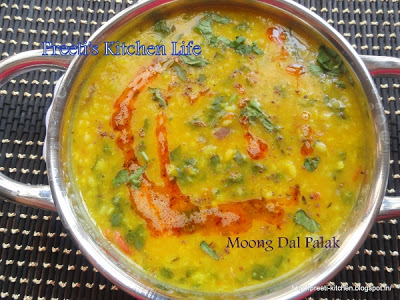 Last Updated on
Moong Dal Palak is really very awesome and tasty recipe which is very
easy to prepare for our day to day menu. Mostly I did not prefer dal, but after
tempering of onion and tomato paste… its increase the taste of any dal. This dal
is mostly famous in North India side more compare to other areas.
Mostly we used spinach with moong dal or sometime used mix lentils
for this. After combo of lentils and spinach, it's become great combination of
protein, iron and minerals, a complete package of balanced food. I posted this
recipe for blogging marathon 21 under this theme of cooking with Moong dal
hosted by Srivalli.
You can serve this lentil recipe with chapatti or rice. Please check
out Moong Dal Palak recipe, hope my friends like it.
Preparation Time: 15 Minutes
Cooking Time: 15 Minutes
Serving: 5 Persons
Ingredients:
1/2 Cup Moong Dal/ Yellow Split Lentils
1 Cup Spinach, Chopped
2 Tomatoes, Chopped
1 Onion, Chopped
1 Green Chili, Chopped
1 Tsp. Ginger, Grated
Green Coriander, Chopped
Salt to taste
1/2 Tsp. Turmeric Powder
2 Tsp. Coriander Powder
Red chilli to taste
1/2 Tsp. Garam Masala
1 Tsp. Cumin Seeds
2 Tbsps. Clarifying Butter
Directions:
Wash and soak the lentil in water for 5-10 minutes.
Boil in pressure cooker with 2 cup water, chopped spinach, and salt and
turmeric powder till to 1 whistle for little mashy and cooked dal. You can mash
with back of ladle or spoon.
Now heat the ghee in pan, add jeera. Add onion,
green chilli and ginger and sauté for 5 minutes.
Now add tomatoes and cook till to soft. Add all
spices (salt, red chilli, coriander powder, garam masala). Mix well.
Now add this tempering into cook dal and stir well.
Cook on low flame for 2-5 minutes more.
Garnish with fresh coriander and serve with chapatti
or rice.
Submit this dal recipe with the following events:
Blogging Marathon page for the other Blogging Marathoners doing BM#21