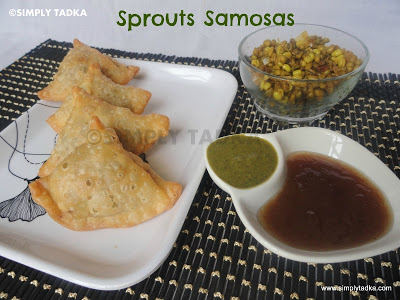 Last Updated on
This Time I picked very popular street
snack which loved by everyone Samosas with different filling, so I choose baked
samosas with colourful veggie filling for 1st day, Traditional
Aloo samosa with ambi chutney for 2nd day and on the last day I
choose Sprouts filling for this tempting samosas.
Sprouts are very healthy and nutritious,
generally people avoids samosa because of potatoes…. So to solve this general
problem we tried lots of variations in samosas. Sprouting is the practice of germinating seeds to
be eaten either raw or cooked.
Sprouted
foods are a convenient way to have fresh vegetables for salads, or
otherwise, in any season and can be germinated at home or produced
industrially. They are a prominent ingredient of the raw food diet and
common in Eastern Asian cuisine. Legumes are the great source of 20%-25% of
proteins, fibre, and vitamins A, C, E and minerals i.e. iron, potassium.
Legumes includes mung, peas, Bengal gram and ground nuts.
For Sprouts,
you can brought from stores but
personally I prefer homemade sprouts… for this you have to soak sprouts for
overnight in water and then drain and cover in muslin clothe for one day to become
sprouted.
 Preparation Time: 30 Minutes
Â
Cooking Time: 15-20 Minutes
ä Servings: 5 Pieces
Ingredients
For Crust
1 Cup
All-purpose flour/ Maida
1/2 Tsp.
Carom Seeds/ Ajwain
Salt to
Taste
1 Tbsp. Oil
For Filling
1 Cup Green Gram Sprouts
1 Small Onion, Finely Chopped
1 Green Chili, Chopped
1/2 Tsp. Raw mango Powder
Salt to taste
Chaat Masala to taste
1/2 Lemon Juice
1/2 Tsp. Turmeric Powder
1/2 Tsp. Red Chili Powder
Direction
For Crust
Mix all
ingredients together in one large bowl and combine with fingertips as crumbs.
Now add enough water to knead stiff dough for Samosa. If the dough is too
sticky to fingers then add some more flour. Gather dough in a ball and wrap
with clean damp muslin clothe for 15-20 minutes and it's keeps away from
drying.
For Filling
Heat the oil in the pan and add onion, green
chili and sauté till to translucent. Add spices and sprouts. Mix well and cook
for 5 minutes more. Sprinkle lemon juice and mix it.
For
Preparation
Divide the dough into equal four-five portions and
roll a ball out into round shape using rolling pin. Cut it into half equal with
a knife. This will make 2 half-moon shaped wraps. Pick one and form a cone and
seal the edges with the help of water properly as in picture shown. Fill the
cone with 2 tbsp. stuffing and seal again with water. Do same method with rest
of stuffing and dough.
Heat the oil in wok on high flame, when oil is hot
enough. Add samosas into small batches and fry continuous on low flame, for
more crispiness and completed cooked till to golden color.
Note: Never fry samosas
on high flame.
Coming to
winner announcement of "
Foodabulous Fest- April series
" hosted by Pramitha Parmi
from "Pramitha Love Cooking!!" We have to choose winner out of 188 entries and
Lucky winner is Recipe No. 75
Congrats!!! SHOBHA from FOOD MAZZA
Congratulation Shobha from "Food Mazaa" for lovely recipe "
Sindhi Pakora Curry
" … You win cookbook by Sanjeev Kapoor. Please send me your Indian shipping
address at my email id:
Simplytadka@gmail.com
with contact number in full details within two days otherwise I have to choose
another one. For Ongoing and Upcoming event please visit @
hostline page
Enter your email address:
Delivered by FeedBurner