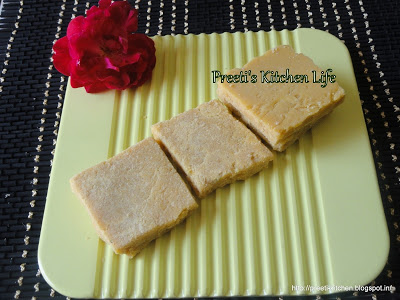 Last Updated on
Today I post Mysore Pak recipe, for Blogging
Marathon#23 under Traditional dish theme for 1st days. This is my first time to
try this type of cuisine in my kitchen. It's yellow color and roasted aroma, really feel good…. and in taste too.
Mysore pak is a sweet dish of Karnataka, India, usually served as dessert. It
is made of generous amounts of ghee (clarified butter), sugar and gram flour.
Legend is that Mysore pak
was first created in the kitchens of the Mysore
Palace by a palace cook named
Kakasura Madappa out of the above ingredients. The cook at the Mysore Palace
kitchen simply made a concoction of besan, ghee and sugar. The sweet that was
formed delighted the royalties so much that it became a "Royal Sweet".
When asked its name, Madappa obviously didn't have its name, so he simply
called it the 'Mysore pak', a delicacy from the Mysore Palace. The king
relished the sweet so much that he got Madappa to set up shop outside the
palace grounds so that it could be made available to common people.
Preparation time: 10
Minutes
Cooking time: 15
Minutes
Servings: 12-15 Pieces

Ingredients:
1 Cup Bengal gram flour
2 Cup Clarifying butter
1/2 Tsp. Cardamom powder
1 1/2 Cup Sugar
1/2 Cup Water
Pictorial:
mix roasted flour & ghee
Direction:
Roast the sift gram flour on low flame till to aroma comes. Now again sift this roasted gram flour. Now mix
the roasted gram flour with one cup clarifying butter and cardamom powder in
one bowl.
Add sugar and water together in pan on medium flame. Cook till to
one string consistency.
Now mix this flour mixture into sugar syrup smoothly with ladle. Now
add remaining melted ghee slowly- slowly in pan and mix well. Keep stirring continuously.
Keep flame in low and mix well.
Keep stirring this on low flame with ladle till to batter become
little yellow and thick. Now grease the plate with little oil or ghee.
Now spread this batter and keep aside to cool. Now cut into diamond
or square shape.
Note: you can choose sugar quantity as per your sweet tooth.
Submit this recipe
with following events:
Blogging Marathon page for the other Blogging Marathoners doing BM#23
1st Anniversary event hosted by Siris Food.com and 60 days to Christmas Event hosted by priya
Christmas Cook Off event hosted by Food-o-mania
WTML event hosted by Nitubala