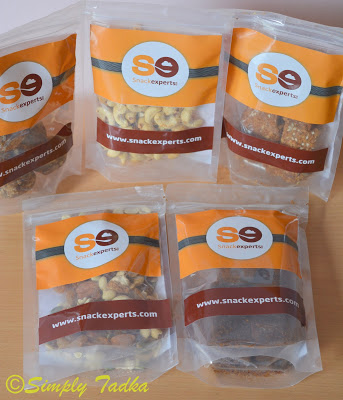 Last Updated on
Snackexperts.com kindly sent me this box to review. The snackexperts.com
makes these healthy snacks which are delicious, tasty and natural. Snacking can be a large portion of our
daily routine food which fulfilled 20-25% needs of human being. These days' people
are more aware about healthy food and snacks and conscious about oily and junk
food. If you are looking for healthy snacks such as figgy bar, oats and nuts
balls, urad dal ladoo, roasted nuts and dried fruits like strawberry, kiwi and
more than snackexperts.com is right place. They are taking care about both
aspects of quality and taste in own products.
Snackexperts.com is a web based
snack delivery platform. Based on customer preference and order, they can
deliver healthy and nutritious snack items across the country. Presently snack
experts cover 12000 pin codes across the country to deliver the products. You
will receive 5 snack pouches per box. The snack items can be selected by
customer during order. There are no additional shipping charges included……get
free delivery at your doorstep.
Snackexperts.com is providing healthy and nutritious snack
boxes which contain lots of varieties in savory and sweet snacks at affordable
prices. So snackexperts.com is right website where you get more information about
healthy snacks including ingredients and nutrition values both are available
with snacks. Love the airtight and hygiene packaging of products and fully take
care about consumer preferences.
Products
Honey Roasted Cashew
Ingredients: Whole
Cashew,Honey,Yellow Mustard Seeds,Chilly Flakes,Salt. Net Weight – 150
g per pouch
Natural Trail Mix
Ingredients: Golden
Raisins,Roasted Peanuts,Watermelon Seeds,Cashews,Almonds,Pumpkin Seeds. Contains: Peanuts and Tree Nuts. Net Weight – 150
g per pouch
Oats & Nuts
Balls
Ingredients:
Oats,Black/Brown Seedless Dates,Fig,Almond,Walnut,Pista,Flax Seeds,Ghee Contains: Tree Nuts. Net Weight – 150 g per pouch
Chocolate Brownie
Ingredients: Wheat
Flour, Cranberries, Walnut, Sesame Seeds(white), Chocolate Chips, Butter, Egg,
Palm sugar, Vanilla Essence. Contains: Egg, wheat Net
Weight – 150 g per pouch
Founded seven months ago by
three college friends, the start-up was shortlisted from 260 applications.
Chloroplast Foods aims to supply 30 preservative-free snacks online, through
their website www.snackexperts.com, by tapping into the growing healthy snacks
market.
"We have created these products from unique
recipes. Since this is a subscription-based model, they are prepared after a
customer places an order. Within seven days, the customer gets a fresh product
that has a 30-day shelf life. We offer five unique varieties for Rs.699," said
Arul Murugan Palanichamy, a co-founder of snackexperts.com.
You can prepay for 1, 3 or
6 boxes. For 3 and 6 box options you can choose the frequency. Based on the
dates you chose the box will be dispatched to your address. After the
respective boxes are dispatched, Proforma invoices will be sent to pay for
subsequent boxes.
Overall I think snackexperts.com
is a great way to experience new healthy snacks on great value and great option
as a gift for friends and relatives.
If you would like to order some snack boxes for your love
ones or want to give as a gift on upcoming festivals like Rakhi, Diwali and
more, Sign Up or Check out their website click here!!
E-Mail
id: info@snackexperts.com
Address: C/o
Chloroplast Foods Pvt Ltd.
No 160/R48, 56th Street
TVS colony, Anna Nagar west extn.,
Chennai-600101.
Contact – 044-49540010,
9843824949.
Enter your email address:
Delivered by FeedBurner