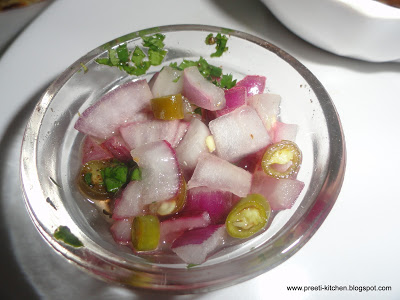 Last Updated on
A standard accompaniment or
dip is salsa. Salsa (meaning
"sauce" in Spanish) available in different ways, the most common
ingredients in salsa is chopped tomatoes, onions and chili. I had different
taste of salsa with beans, tacos, tortilla and with main course sometimes.
Usually I used preserve chilies with lemon juice. Now-a days prepared salsas so good and easily
available in market. Salsa is easy to make, especially because it requires no
cooking. Just be careful when handling the chilies. This time I prepared onion
chilies salsa.
Ingredients
1 tbsp. onion (chopped)
1 tsp. green coriander (chopped)
1 green chilli (fine chopped)
Salt to taste
Black pepper powder
Lemon juice
Method
Combine onion, green chilli, chopped coriander, lemon juice, salt
and pepper in medium sized bowl. Mix well. If chillies make the salsa too hot,
add some more onion and lemon juice. If not hot enough, carefully add few
chillies more. Keep for an hour for the flavours
to combine. Serve Onion Chilies Salsa with
chips, tortillas, or main course.
submit to